I was always an avid reader, and as a youngster, I loved the magic kingdom that the Greek myths created. But time and the day-to-day seemed to dim those distant dreams of faraway places, until something spectacular happened that reminded me of the sheer brilliance of life lived like the gods. That something was seeing the perfect man-made wave. It was breathtaking in its perfection, not the messy perfection of nature. No, this wave emerged out of one man's vision, as if Poseidon, the ruler of the sea, had aimed his trident and commanded, "Let There Be Surf." Perhaps those were not the exact words uttered by my friend Kelly Slater when he saw his dream wave come to life, but the results were the same.
Some mere mortals might have been satisfied with 11 world surfing titles, but not Kelly, whose drive for mastery, whatever the endeavor, has taken him on a journey that reads from the outside like something almost supernatural. From humble beginnings in Cocoa Beach, Florida, where he first started riding waves, he has been able to remake surfing into the new Sport of Kings and develop an empire that would have been unheard of for a "surfer" just a few decades ago.
Kelly has matured along with the sport itself, and there is no separating the two, starting with his first sponsorships—which amounted to a couple of freebies, like tail pads and T-shirts—on up to official sponsorships with Sundek and OP, at a time when surf clothing was growing in popularity and brands started paying surfers to use their likeness. He joined Quiksilver in 1990 for what would be a 23-year relationship—a lifetime by industry standards—and he didn't walk away at 42 because he was no longer relevant; he had opportunities and goals that had yet to be fulfilled. His surfing ability, like fine wine, has only gotten better with time; his wave judgment and contest skills are still unmatched. His training schedule is rigorous, organic and now ecologically friendly: With his eye ever on the horizon, he's started his own brand of sustainable clothing, "Outerknown," under Kering Group, the parent company of Gucci, Stella McCartney, Saint Laurent, Alexander McQueen and Balenciaga, among others. With this relationship and all its vast resources, Kelly's signature clothing will be something luxuriously unique in an industry that has become dependent on high volume and quick turnover.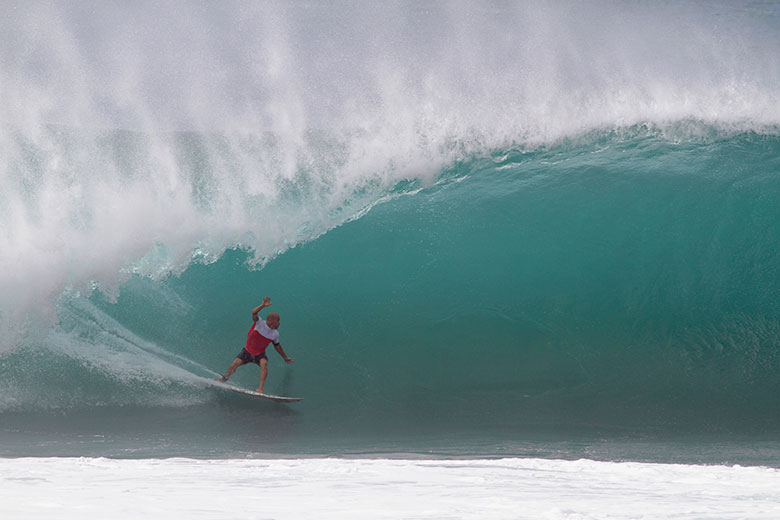 It's hard to imagine any other man with enterprises ranging from organic energy drinks to eco-friendly teen furniture with Pottery Barn finding time to paddle out during the recent big-wave Eddie Aikau Contest at Waimea Bay and get tubed on a day where the pros were calling the surf 50-plus feet. The crowd of thousands who had camped on the beach on Oahu's North Shore to see the spectacular event—which was being held for the first time since 2009 due to a lack of big surf in the intervening years—were on their feet screaming their enthusiastic approval. After coming in fifth, Kelly posted a great shot of his fellow competitors to his 1.5 million followers on Instagram, where he graciously congratulated winner John John Florence and the Aikau family and said a heartfelt goodbye to friend and big-wave rider Brook Little, who had recently passed. Although I'm sure he wanted that title for himself, he was gracious and complimentary in his role as a true champion. Surfing is better from Kelly's participation in it. He has helped to legitimize it and elevate its acceptance.
Years on the road living out of a suitcase and board bag have not diminished Kelly's love for the sport or his sheer joy of surfing. He's literally redefined the role of surfer, and the trail he's blazed is being carefully analyzed by an up-and-coming generation of young men and women, for whom the opportunities now seem endless, as the whole world seems to have fallen in love with the sport, when just a few decades ago it was enjoyed by only a very select few. Long gone are the days when I could walk along the beach on the North Shore without seeing another footprint in the sand, or cruise the California coast with my dad in a '52 Chevy station wagon looking at waves with no one out. There is a part of me that's nostalgic for that seemingly simple past, but I'm so inspired with what Kelly's been able to achieve. Man has been driven to create since the beginning of time, and through devotion, a drive for perfection and some great friends and mentors along the way, Kelly has helped make the art of surfing, once the dream of a few, a reality, with a man-made wave created to bring the joy of surfing to a global community. Entrepreneur, icon and friend—Kelly is all of these, and "Surfer" is the path he has chosen for greatness.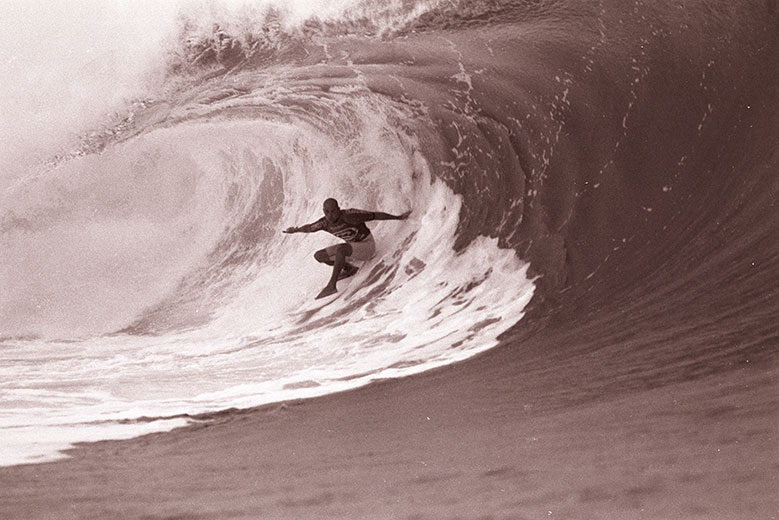 —