Herbie left home the winter he was 16 with the clothes he was wearing, a surfboard, trunks and a bedroll, headed for paradise. Living in the back seat of a rusted-out Cadillac, even though it was Dewey Weber's, was anything but. Then again, at first light, when he could see the wave peeling at Sunset Point, he knew his rash decision was perfect. He did odd jobs for a few bucks to keep eating, but when Greg MacGillivray hired him to star in his film Free and Easy, he figured he had it made. Wow, paid to surf … The pay wasn't much by today's standards, but he had a place to crash, a ride to the beach and the opportunity to fly to Maui to surf the Bay—he was completely stoked!
We met that winter at the Makaha contest, and two years later, I had the grand idea of leaving home. In the summer of '68, after our brief stay in Laguna Canyon with some of the more notable characters in the Brotherhood of Eternal Love, we were off to Maui. Hawaii proved to be a haven for many years while Herb perfected his board-building craft and the entrepreneurial spirit that generated more than 100 surf film titles, thousands of stills, surf traction, documentation of surfing's aerial revolution, jet skiing the outer reefs at Pipeline and the beginnings of tow-in surfing. The late '80s and early '90s were a fantastically creative time in surfing, and with our two sons, we were living the dream.
We were now based in San Clemente, and surfing had gone through another radical change, as more money was drawn in and the companies started to become more and more corporate. The rock 'n' roll vibe that we thrived on seemed to get somewhat lost when sponsors had to worry more about reporting quarterly earnings. It was a good thing for many of the surfers, as it allowed them to make a living that would have been impossible a few years before, but now surfing's identity was dictated by large corporations who had the advertising dollars to make stars and re-create history.
Herb and I have been extremely lucky. Owning Astrodeck, we've been able to keep creating and designing and have produced snowboards, wakeboards, bindings, clothing and all types of art, which has always been our passion. Since his first resin paintings in '66, Herb has used traditional surfboard-building materials in new and unique ways. His signature Wrecktangles, made from boards ridden by the greatest contemporary surfers, broken at the Pipeline and assembled as sculptures, hearken back to his Wave Warriors photo shoots of the late '80s, where the greatest surfers gathered on the beach at Pipeline for a group shot that Herb was able to pull together four winters in a row.
Those shots are now considered among the most iconic images in surf history. With a great personal library of footage and ever- growing collection of paintings, sculptures, photo collages and stories, Herb's show, Path of a Wave Warrior, is being crated now for its next stop, Tokyo.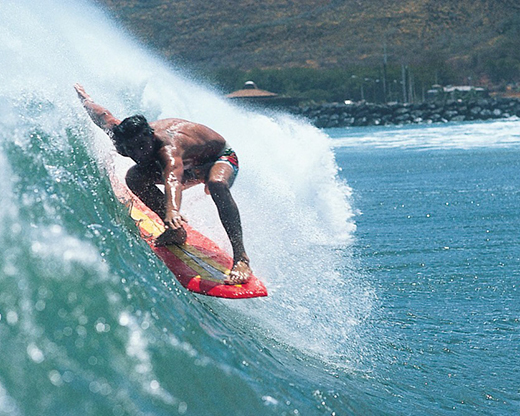 —