When Christian was just 10 months old, I used to have to turn his playpen upside down and set it over him so he couldn't escape. He knew no boundaries and with reckless abandon would climb up anything, jump off everything and hang out second-story windows at my parents' house, completely undaunted and without the slightest recognition of self-preservation.
He has lived his life with the same unique sense of purpose, kind of "to hell with the consequences, I'm doing it my way no matter what" mindset. It really chaps a lot of people who love the game of life to fit a tidy format. I think sometimes that's Christian's greatest gift—he makes you stretch your own boundaries, and as hard as that is sometimes, that's where personal growth happens. From his radical aerial surfing style in the late '80s, which is now, decades later, part of the requirements of modern surfing, to his brash, sometimes arrogant-sounding interviews that got him completely ostracized from the "established" surfing arena, he has been a lightning rod of controversy. Under the sometimes intense public criticism and scrutiny, he has managed to live his life his way as a complete nonconformist and has recently used his insight to envision a way of bringing his design talents and love of motorcycles together under the umbrella of MadHouse Kustom Designs.
He's now collaborating with professors on 3D printing of fins for his custom-shaped and hand-painted epoxy flying machines, surfboards to most, with special-weave Kevlar for strength, creating light, super strong but sensitive boards for the most progressive surfing. With an award-winning custom bike builder and longtime personal friend he is opening a shop here and in Tokyo that will also carry the clothing he has been collaborating on with RVCA over the past year. It's all a testament to his insane staying power and his ability to excite people with the idea of personal freedom that was so much a part of surfing and motorcycles' past lore.
Christian is funny, irreverent and totally bizarre—who knew there were hundreds, maybe thousands of juggling videos on YouTube, or for that matter that they would have such a huge following. When Christian got it into his head a few years back to learn to juggle he couldn't wait to share it with me. Now, when waiting on anything anywhere, he's practicing, often wearing one of the scary clown masks he likes to collect. You can imagine this might cause some trepidation out there in the conservative world where labels create certainty, but this is Christian's world, and he is truly abstract.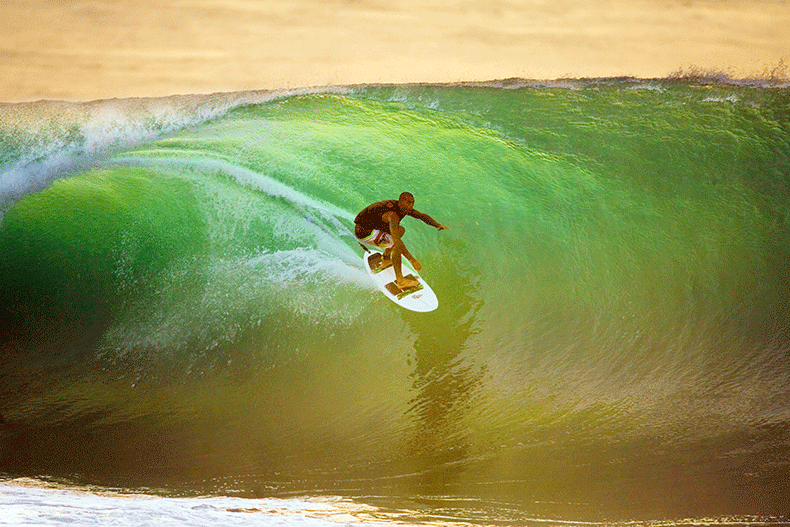 —