Nathan was always a big wave rider. At 5 he used to paddle out to the reef, about 350 yards offshore in front of my parents' house, to catch the biggest waves, completely fearless. He wore a hot-pink wetsuit so we could spot him in the lineup in case of emergency, but with his keen sense of adventure there was also a cautiousness that gave him an interesting sense of balance. Whether being towed into waves behind Herb's jet ski or riding Waimea Bay at age 11, he pursued his goals thoughtfully, respectful of the challenge and the degree of danger.
Christian was five years older and of course cast a shadow; at 18 Nathan all but gave up surfing, put on a helmet to enjoy the anonymity and pushed headlong into motocross, taking his surf/skate maneuvers in a whole new direction. With a couple of friends he helped to pioneer the aerial acrobatics that are enjoyed in the sport today. A few injuries later, that siren song that all men of the sea have spoken and written about at length was beckoning, and Nathan heard the call.
Always a believer in the magic of nature, when he scored two 10s in a heat during an event at Teahupo'o, he knew his return was the right road to follow. Even though absent for a while and not on the tour, he was still an asset, and sponsorship was available that would allow him to follow the surf. He had the hard-earned maturity and experience to take advantage of the opportunity and bring something more to the bargaining table. With memories of how important films like Wave Warriors were, he started working with his sponsors on film projects, which helped chronicle his travels with his teammates and became in-store advertising vehicles. By this time all major companies had their own cameramen and film crews to capture the surfing/ adventure lifestyle.
All the traveling soon took its toll, though, and the industry itself was going through major changes as the economic downturn had companies folding, firing and trying to stop the bleeding before it could right itself. Nathan found himself without a clothing sponsor, which is usually the main source of income for surfers, and skaters for that matter. Vans had been his shoe sponsor for years, and they felt a head-to-toe program with Nathan was a perfect fit. (As a side note, Vans had been buying fabric from Hoffman's since the two Van Doren brothers started the company in 1966.) Nathan once again put together his travel itinerary to follow the waves.
Nathan and Sion Milosky, a friend and truly inspired big wave rider, traveled to Mavericks in November 2010 for a huge swell; when they got out of the water and were drying off in the parking lot, they were told of Andy Irons' death and immediately headed to Kauai to be there for Bruce. The trip was surreal, and Nathan recounts the story of a white owl not long after, which in hindsight he felt sure was an omen. Four short months after Andy, Sion would drown at Mavericks, after what some said was a two-wave hold-down. Nathan searched frantically for his friend, until he finally recovered the lifeless body and brought him to shore.
These events changed Nathan. For months he was depressed and inconsolable, but then little bits of the magic of life started to seep back in. He felt the gift of friendship that these two men had given him and he rededicated himself to living a life that would honor their memories. In August 2011, he caught a wave at Teahupo'o that would be seen around the world as one of the most awesome rides in surf history.
With the birth of his son, Lazer Zappa, in November 2013, the cycle of life begins again, and Lazer shows all the signs of being another thrill seeker…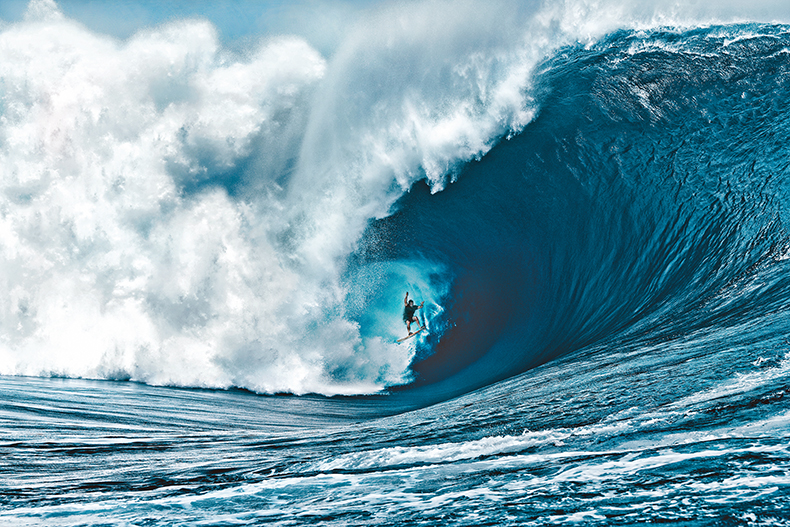 —