Cleon Peterson was born in Seattle in 1973. That's perhaps where the boring bit begins and ends. Raised in an open, intellectual and creative family (it was the '70s after all), young Cleon rode skateboards and read comic books in between home-school assignments from his grandfather. This inspired guidance may have helped to foster careers for the two boys—Peterson's brother is photographer Leigh Ledare, known for his series of provocative photos of their mother, Tina, titled, "Pretend You're Actually Alive." Cleon is featured in a few of Ledare's portraits as well, as the family served as Leigh's preferably taboo subject matter at the beginning of his burgeoning fine art career. Unfortunately, this was also during a time of personal strife for Cleon, who was wrestling with drug addiction, a diagnosis of mental illness and a severe asthmatic condition causing him to be deathly allergic to oil paint (and cats).
However, Peterson rewrites his story and it begins again. He has made the incredible journey of overcoming these impossible obstacles and is thriving, using his past experiences to inform and develop his amazing talent for design and art. Peterson went on to receive a BFA from Art Center College of Design in Pasadena and an MFA from Cranbrook Academy of Art in Detroit. He currently lives in Los Angeles with his wife and kids. When he's not painting in his studio, he works as a freelance graphic designer. Peterson has shown at New Image Art in Los Angeles, Alice Gallery in Brussels, Lazarides in London, Joshua Liner Gallery and Deitch Projects in New York.
With all his hard-earned success, he can see things from the other side now; however, his view is not necessarily pretty upon closer inspection.
Stripped down to the most concise visual information he can offer you, Peterson's paintings portray only slightly ironic nightmares born from years of personal struggle, street violence and ultimate survival. There is no escape from Cleon Peterson's work and his exorcised demons, which sometimes wear uniforms or just underpants. His narrative is dark and uncomfortable, a car wreck you can't look away from. The canvases provide a catharsis for the painter and, depending on individual experience, his audience.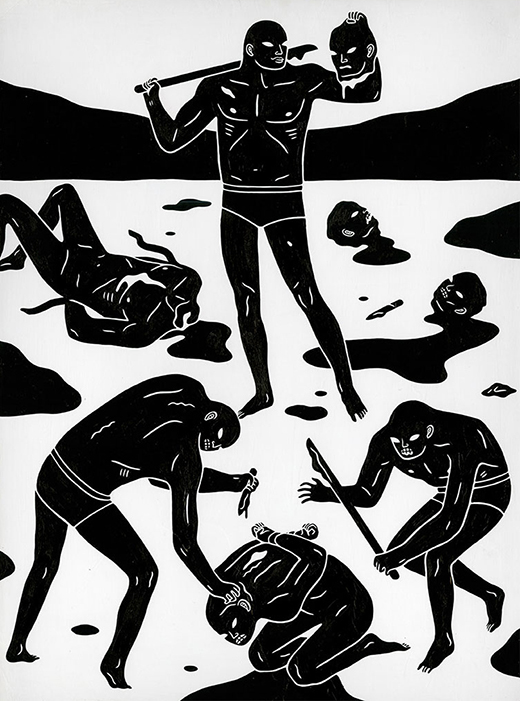 Peterson's street fighters remind us there are sinister, very personal ways to die by knife, stick, fist or claw. Rarely will you see a gun. This is absurd, graphic violation in spot color—the flat fields of red, black and white contribute to the anxiety, the rawness and the inescapability of the static chaos in his compositions.
The faceless, generic violence that Peterson depicts is at its most frightening in that it lends itself to any neighborhood, any ethnicity, any gender. Anyone in Anytown, USA. It's Dante's Inferno depicted for a modern age. Heavily influenced by comic masters Dan Clowes, Charles Burns and Robert Crumb, as well as his own unwavering ability to design the hell out of a blank page, Peterson's quality of line and perspective drawing is flawless. He provides beautifully rendered street corners at alternative angles and battlefields viewed from above for his imaginary urban territories, even if the society he's depicting is massively askew.
—