Fashion photographer, world traveler and former street performer David Mushegain had been friends with Anthony Kiedis for some years, surfing with the Red Hot Chili Peppers frontman on a regular basis. When they realized they would both be in Japan at the same time, they thought it would be cool if Mushegain took some photos of the show, the second stop on the band's I'm With You tour. So Mushegain took his camera and stood in front of the stage, but instead of training his lens on the musicians, he found himself intrigued by the fans. After the show, Mushegain sat down with the band and showed them his photos—an homage to the faces that stared back at the band night after night on the road. The band members were fascinated and invited Mushegain to compile a book of photos just like that, focusing entirely on the fans.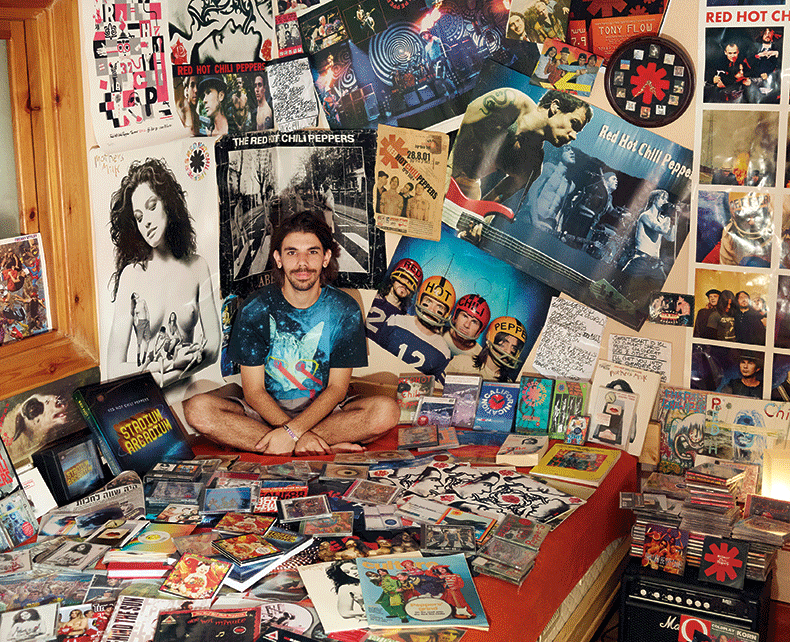 Soon enough, Mushegain found himself on the road with the Red Hot Chili Peppers. Four years, 130 shows and 100,000 photos later, the book Fandemonium would be born, featuring Mushegain's anthropological approach to rock concert photography, a document of the passion that orbits one group of California musicians as they travel the globe.
There were the new fans, the lifers, the 8-year-old kids at their first concert. And the woman whose husband had died the day before, who flew six hours to see her favorite band nonetheless because she knew the music would ease her pain. Sometimes Mushegain went to the fans' homes and peeked inside their world, stepping out of the heightened concert experience. Until embarking on the project, Mushegain had no idea the band had such a massive, cult-like following around the world, stretching from Argentina and Brazil to Eastern Europe. "We talked to so many people in so many cultures," says Mushegain. "It was such a big thing to put your arms around, documenting a group of fans that numbers in the millions."
One fan who stood out was Julia, a girl from Madrid who seemed to be at every single show on the tour. One night in Ukraine they saw a female figure curled up on a bench … it was Julia. "I said, 'What are you doing here?' And she said she was lost because she couldn't understand the road signs." They found her a place to sleep. "Her whole life is based around this band, and that kind of blew my mind," says Mushegain, who is a musician and a music fan, but, alas, never with the quasi-religious fervor he saw on the road with the Chili Peppers.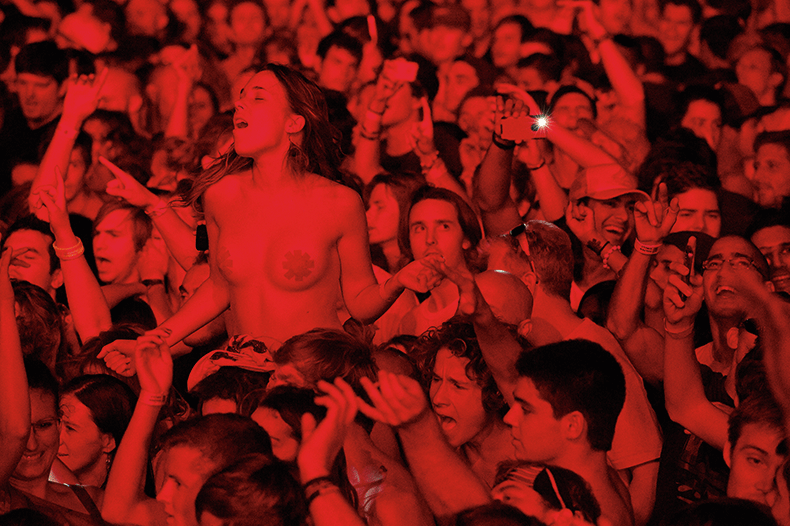 Raised in an Armenian family in Los Angeles, Mushegain grew up playing the drums, and in the '90s he took off around the world with his hand drums, playing on the streets in Ibiza, Peru, India, Brazil, Iran, Pakistan and Prague. After riding horses deep into the Amazon jungle to track down a shaman, a trip that resulted in many of his fellow travelers falling ill, he returned to New York, planning to take a break. A few weeks later 9/11 happened, altering the possibilities for travelers and forcing Mushegain to choose a new life path.
A lifelong fan of photographers Yousuf Karsh, Gerda Taro and Robert Capa, he had already been experimenting with various cameras, shooting shop mannequins around the world. When Johnson Hartig invited him to travel to Paris with him for Fashion Week, Mushegain found his new calling in the world of fashion. Vogue Italia published some of his mannequin shots, and soon Mushegain was in demand as a fashion photographer, particularly for the various editions of Vogue magazine. Unlike most fashion photographers, he always prefers to shoot his subjects (whether they be models, musicians or his friends) in their own environments, creating a highly personal body of work that he hopes will resonate for many years to come.
"When I approach work, I approach it with the idea that it will mature over time," he explains. "Like with the Red Hot Chili Peppers project—I almost think they will have more pertinence 50 years from now, as people look at them and ask, 'Remember when they were alive?' That is fascinating to me."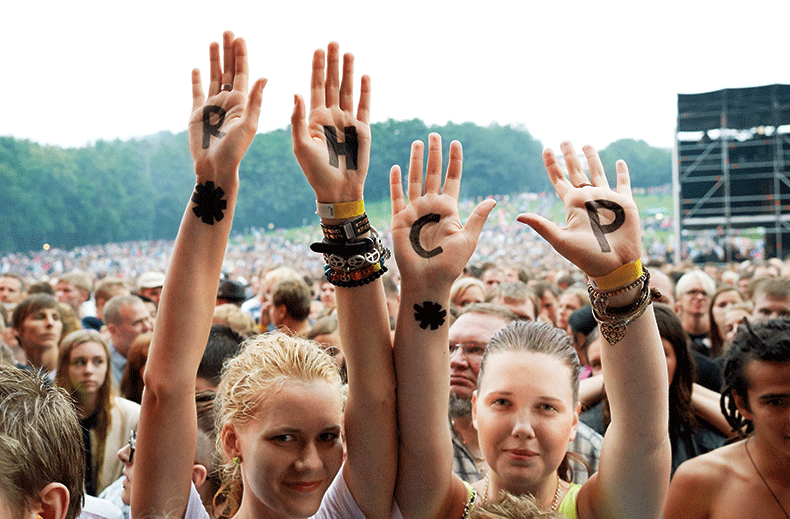 —