Artist Ben Eine is a happy man and he's not afraid to show it, or, um, paint it. The former Lloyd's of London agent by day/train defacer by night/turned contemporary art star has a lot to be excited about lately. Most recently he opened his first solo show in New York, Heartfelt, at Judith Charles Gallery and completed a rare piece of sanctioned street art on the walls of a U.S. maximum-security prison. The piece, "AMAZE," is in his signature Tenderloin font on the front of Rikers Island gym.
"There's a warden in this prison that is well up for people painting stuff and making his prison look better," Eine told the Daily Telegraph UK. "It's the only prison in the world that has graffiti and street art in it."
Thankfully, Eine is on the right side of those prison walls, despite his degenerate start as an all-city vandal in the British graffiti scene of the '80s. Eine's early career in prolific public surface abstraction is where he met Banksy, with whom he would later collaborate and become his exclusive screen printer. It's as a master hand screen-puller that Eine would accomplish his first Guinness World Record for the most colors in a print. That's 72, if you're counting.
In 2010, Eine completed what's now known as Alphabet Street in East London. All the letters in the alphabet, A to Z in sequence, are painted on 26 shop gates with Eine's signature font in candy colors. Eine worked for a year putting the squeeze on Middlesex shop owners to let him create a street of dreams for graf artists and a quick reference guide for the stroller set learning their letters. The work is still a source of pride for the neighborhood and a tourist attraction.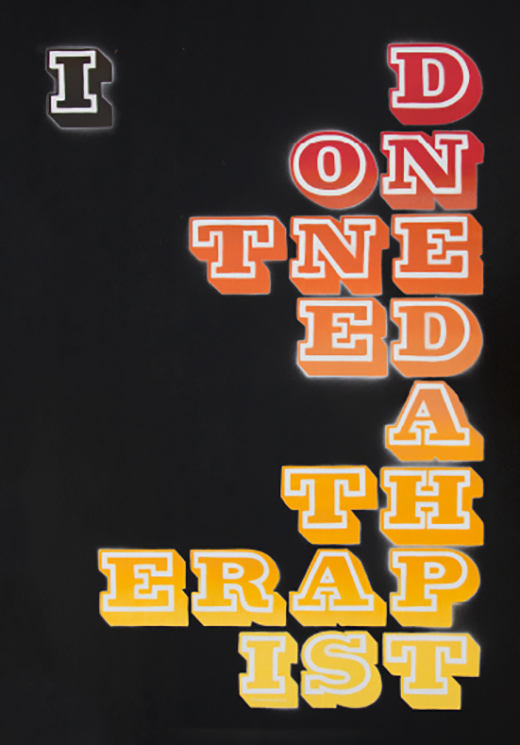 Recently relocated from London to San Francisco, EINE is now seeing his industrious graffiti and screen-printing background pay off nicely. Not only is his "Twenty First Century City" painting part of the Obama White House's art collection, but in 2013 he helped initiate a mile-high club for art collectors via Virgin Airlines. Partnering with Richard Branson, Eine opened a show in the first commercial art gallery at 35,000 feet with the Gallery in the Air exhibition, offering Upper Class passengers flying between London and New York the opportunity to view and purchase 10 of his latest paintings, all from the comfort of their seats. It was a party along with the Branson-head-shaped ice cubes available at the bar.
Of course, when one flies first class, one needs the appropriate gear, and perhaps that would include Eine's Louis Vuitton "Great Adventures" scarf, a textile design the retailer commissioned as part of its ongoing Foulard D'Artistes series. With this exemplary assignment, Eine joined the likes of fashion's original type gangster Stephen Sprouse in updating the iconic brand. Having painted the words GREAT ADVENTURES on the street in many of his stops around the world—Beijing, Osaka, Copenhagen, Dallas and San Francisco—Eine believes the phrase to be inspirational, meaning something different to everyone who sees it, or in the case of Louis Vuitton, wears it.
Already a long list of firsts for Ben Eine, and there is one more to add: the back-cover piece for Citizens of Humanity magazine, inspired by and continuing his surprising love for fashion.
"Fashion has always been a massive part of my life, growing up," admitted Eine in a previous interview. "When we were much younger it was all about early hip-hop and Vivienne Westwood; her clothes had the attitude we were trying to project to the world around us. Subcultures always dress in a style that identifies them—graffiti writers, skateboarders, punks, etc. Even now I still dress in a way I feel identifies me as who I am and what I do."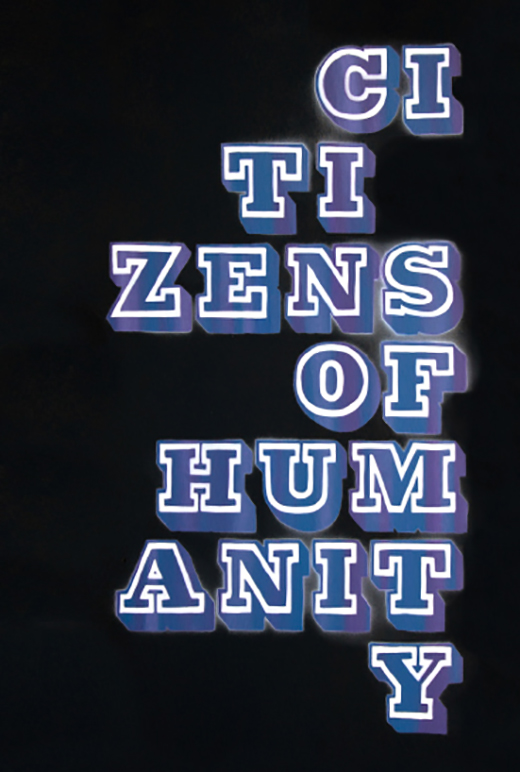 —