In the late 1980s, west side Los Angeles native Estevan Oriol began working as a bouncer at Los Angeles hip-hop clubs. One look at him and his first career makes perfect sense: He's a tall and imposing man. After befriending rising local hip-hop stars Cypress Hill and House of Pain, he began traveling with the bands as tour manager in 1992. Over the following years, he would travel with the bands to more than 50 countries around the world, as well as each of the 50 states multiple times. This visually rich experience led Oriol to document the tours, first picking up a camera in 1995. He would soon count Mary Ellen Mark, Richard Avedon, Herb Ritts, Peter Lindbergh, Ellen von Unwerth and Araki among his influences and favorite photographers, but as he says, "At the beginning, it was just my dad"—Eriberto Oriol, also a photographer.
Working with musicians put Estevan Oriol in a unique position to photograph their fans, which included many tough customers from his home city. His portraits of L.A.'s gangsters captured the feel of the city like few others could, as did his images of their wives and girlfriends. Yet as he increasingly stepped into the role of a professional photographer, Oriol realized he would have to make his own efforts to stray from his newly established main subject—other people wouldn't do it for him. "I never thought like everybody else thinks: that if you do fashion you can only do fashion, or if you do street stuff you can only do street stuff," he says. "I used to have an agent 15 years ago, and she'd only get me jobs doing stuff I was already doing. I'd tell her, 'Hey, can I get on some of the big-money jobs? Why is it always the stuff that I already do already?' She would say, 'Oh, I didn't know that you wanted to shoot celebrities!' Well, in L.A., if you don't shoot celebrities, you don't eat. Everybody's all caught up in who's famous out here. If you don't have that, you can't get the attention of the big dogs."
"People would say that they thought I just shot gangsters and hiphop," Oriol continues. "I can shoot anything, though there are things I don't want to shoot. I like documentary, street life, music, portraits, fashion, advertising, all of those things." Oriol would not just be limited to photography, either. In 1992, he had met a fellow lowrider car aficionado who went by Mister Cartoon, and by 1995, around the time Oriol was picking up a camera, the two were business partners on an apparel line, Joker Brand Clothing.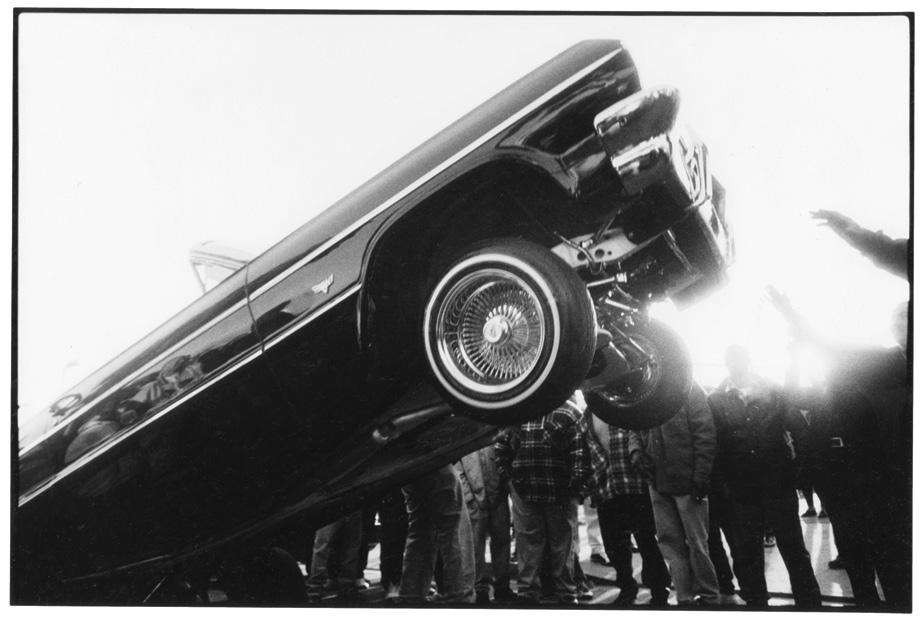 The clothing line grew, and Oriol began to direct videos for musicians like Everlast, Cypress Hill, Xzibit, Eminem and Blink-182. Oriol and Cartoon expanded their partnership as part of S.A. (Soul Assassins) Studios, working broadly across disciplines, including movies, commercials, music, fine art, and fashion. He and Cartoon even recently launched Sanction'd, a line of waxes, chrome cleaners and other car care products.
Yet the core for Oriol has always been photography, particularly in film. "I try to work on film as much as I can," he says, "at least for whoever can afford it. It looks better." Oriol typically works with classic cameras like a Pentax 67, or a Canon AE 1 to create his high-contrast black-and-white and saturated color images. Because of this, many of his models, who rarely pose for anything other than digital, sometimes have concerns. "I shoot girls," he explains, "and they always tell me they want to look perfect, and are concerned about it because they say I don't do any editing. Well, back in the day 'editing' meant you had 30 rolls of film and picking one or two shots off each roll. Now, 'editing' means photoshopping and making something real look fake. To me, the real looks better. I try to pretend like there's no such thing as Photoshop and take a good picture."
Citizens of Humanity recently brought Estevan Oriol in to document their laundry facility, where the denim fabrics are given special washes to create the brand's unique look and feel. "I like shooting processes," says Oriol, "not just the final product. Whether someone is building a car or anything else, I like to shoot how it gets there. So shooting the story of the jeans was cool. They have all the old-school machines in there to do the washes, and it was cool seeing what I guess you would call the analog machines, as opposed to the new digital techniques. For me, I like seeing the old-school way, the stuff made by hand."