Skateboarding in the 1980s needed a new radical. It was suffering a dip in popularity following the burnout of the Z-Boys, the gnarly Southern California team who a decade earlier were the first to liberate the sport from the confines of gravity, launching theirboards and themselves into the air.
Enter Christian Hosoi. The Cali youngster with a Hawaiian attitude spent his early adolescence at the Marina Del Rey Skatepark, where his artist father Ivan Hosoi worked as the manager so he wouldn't have to pay for every visit, since they were there all the time anyway. At the skatepark the younger Hosoi could go for hours watching original Z-Boys like Jay Adams and Shogo Kubo, who in turn would soon see Christian Hosoi's potential and start treating him like a younger brother. They taught him tricks and grew his confidence, their techniques and outlook rubbing off on him.
Hosoi began amazing other skaters and growing crowds with his ability to fly higher than anyone else on the scene. The mid- '80s soon became a new boom time for skateboarding, both commercially and creatively. "Tricks were being invented on a daily basis in the '80s," say Hosoi now. "It was so spontaneous and radical and fun."
Hosoi's most notable contribution to skateboarders' arsenal was the Christ Air, a move where he took flight and stretched both arms out to the side, the board held in his hand, separated from his feet. Though there were definitely other skaters Hosoi looked up to as he rose up through the ranks, he always drew from other childhood idols as well. "I wanted to be like Bruce Lee. I wanted to be a martial artist. I was going to be the best in the world," Hosoi says. "But I got introduced to skateboarding, and I was like, oh wow, this is something no one has done. I can actually be the Bruce Lee of this sport. I wanted to be the dominator. I wanted to smash people like Bruce Lee did. I wanted to be the best, and that was my goal at 10 years old."
Christian Hosoi and Tony Hawk became the biggest stars of the era. While Hawk was renowned for his technical ability and dedication to perfecting tricks, Hosoi was famous for his outrageous sense of style. That style was not only reflected in how he skated but how he dressed while he skated, the boards he skated on, the print ads for those boards and the lifestyle he led away from the skate ramps. He grew out his mane of hair (sometimes supplementing it with extensions). He wore leather pants, multiple Swatch watches on his arm and the clothes his apparel sponsor had designed for women. He became a hard-partying fixture in the Los Angeles nightlife world. "What I grew up around—the art world, the Hollywood scene, the club scene—got me to want to look a certain way," he says. "That's where all the style comes in. That's how you create your own image and be yourself."
Hosoi was always consciously looking for ways to differentiate himself. "I definitely didn't follow the trend," he says. "I wore spandex and said, 'No one is going to wear this, that's why I'm wearing this.' I didn't think, 'I can't wait until everybody starts wearing this.'" Still, there were plenty of skaters and fans who coopted his looks, though few, if any, could pull them off like he did.
But even as he took his look to the outer reaches, there was a functional aspect to many of Hosoi's choices. Shogo Kubo, one of the predecessor skaters Hosoi identified with, used to cut up his T-shirts. Hosoi went extreme, shredding the sides, getting rid of the sleeves and necks, using those sleeves for headbands and armbands, then stuffing more T-shirts in his back pocket so they trailed him like a tail. He deemed it "the love shirt," but it served a purpose. "We were all about looking cool and feeling cool, because we're sweating, we're up there working hard," he says. The T-shirt tail accentuated the moves he was doing for everyone who was watching.
When he debuted the Hammerhead board 30 years ago for his company Hosoi Skateboards, its fish shape looked drastically different from the egg-shaped boards all the other riders were using. When they treated him like he was crazy for it, he explained that it was a high-performance skateboard that he had custom designed to serve his needs: The cut-out sides lightened it up, the swallow tail allowed him to pull off tricks usually prevented by the plastic coping used on ramps during competitions, and the notched-out flat nose made it easier for moves where he'd hold the front of the board. The Hammerhead not only became a classic but caused others skaters and brands to start rolling out their own experimental board designs, for better or worse.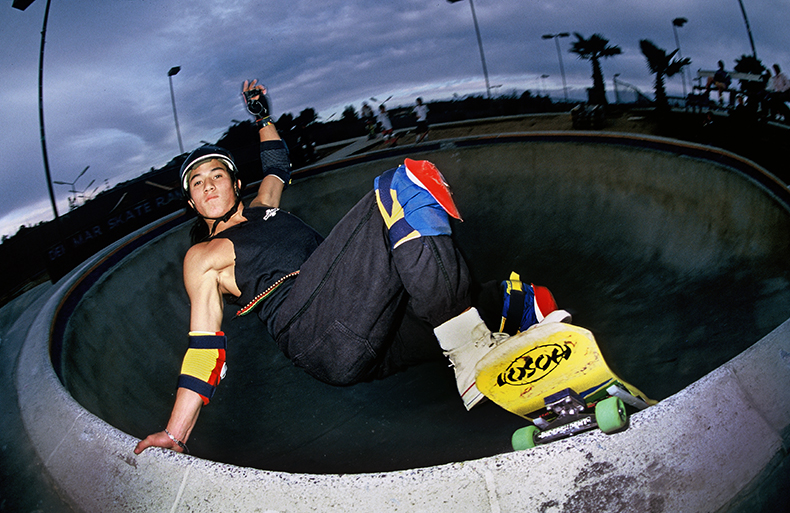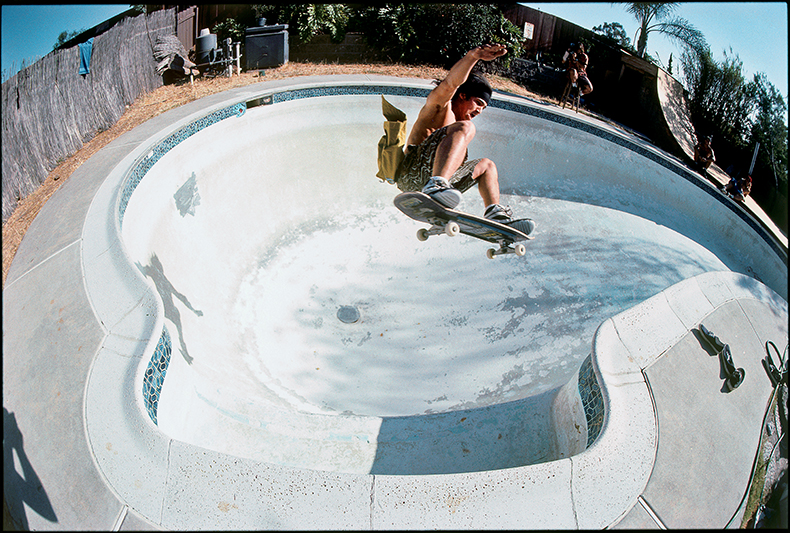 In the early 1990s, skateboarding went through another recession. While Christian Hosoi embraced the sport's transition into street skating and continued to innovate there, he also further descended into drug addiction. This prevented him from capitalizing on the huge skating boom that the X-Games helped facilitate just a few years later. In 2000 he was sent to prison for drug trafficking. Today Hosoi has been out of prison for 10 years and is 14 years sober. He's a married father who has become a pastor at the Sanctuary Church in Westminster, California. His story has been chronicled in the documentary Rising Son and his own autobiography, Hosoi: My Life as a Skateboarder Junkie Inmate Pastor.
In late March, Vans opened a three-years-in-the making 43,000- foot skatepark in Huntington Beach, the Orange County town where Christian Hosoi has lived for almost 20 years. Along with skaters Ed Templeton and Tosh Townend, he was one the inaugural members of the park's Sole of Fame, dedicated to local skate legends. Just now he's coming off a toe injury that sidelined him for six months, but Hosoi is still competing, prepping himself for a Red Bull–sponsored event in Brazil. As he says, "It's time to start skating every day."
—