Fashion comes and goes, and yet jeans endure. What can account for their longevity, universality, versatility? They're cool and comfortable, can be dressed up and down, are appropriate for most situations, and can be completely made your own. Even if there is no one explanation, after nearly two centuries of ubiquity, they get their due in Blue Jeans: 350 Years at the Centraal Museum in Utrecht in the Netherlands. The exhibit traces the jean through the past three centuries—from mine worker's uniform to subculture emblem to high-fashion statement, along with themes on sustainability and modern craftsmanship. We talked to the museum's fashion & costumes curator Ninke Bloemberg about the fabric that is somehow all things to all people.
HUMANITY: Is this exhibit dedicated to the jean the first of its kind?
NINKE BLOEMBERG: It is in this size. There have been smaller exhibitions, but we have about 1,000 square meters [over 10,000 square feet], so that's quite a lot. And it's also unique since for the first time we are telling the early story of the 17th to 18th century, and we also have new pieces specially made for the exhibition. So it's both historical and really up to date.
HUMANITY: Why this exhibit now?
NB: Because as you might know, the Netherlands is quite a big jeans country. Many countries are, of course, but at the moment there are a lot of young labels that are growing really rapidly, so that's an important thing. Also, in September a jeans school started— that's also quite unique in the world. That's where people learn how to make jeans, train to be a jean developer. And, you know, sometimes there's something in the air, and it seemed like a good moment.
HUMANITY: What is it about the Dutch and jeans?
NB: The Dutch are quite practical, or casual in their way of dressing. We do almost everything by bike and jeans are something that you can wear to work, to a party, almost to everything. And so I think it fits to our nature quite well.
HUMANITY: Your exhibit highlights a return to craftsmanship. Tell me about the workshop of Dutch designer Koen Tossijn.
NB: Koen moved his studio into the exhibition room, so he will be there several days a week. And he'll make a pair of jeans in your size, so they are tailor made. We have a fitting room, and he will measure you and make a pair that you can fit to try on to get the size right. So you see the whole process. And we also have another studio, also integrated within the exhibition, and that's where the public can work on their own pair of jeans. So we actually have two studios.
HUMANITY: What makes the Japanese youth such an interesting subculture in regards to jeans?
NB: We show two outfits that came from Japan. And it's quite interesting because if you see how we wear jeans in Europe or in America, it's [just] a pair of jeans. And if it's double denim, you also have a denim blouse. But in Japan, they wear several layers of denim or they roll a pair of early 20th-century denim workpants a certain way so they wear it as a scarf. There is a big interest in American articles, which is especially interesting because of World War II when the two were huge enemies, of course. I think it's partly because Japan does not really have a fashion culture of its own. Until the 1900s or so, people mainly wore kimonos. In Japan they are in some way perfectionists, so they like it when there's an edge, when it's imperfect. And I think it's the same with the jeans. That they have a history, that they're torn. It's not just because it's from America.
HUMANITY: Are there any other parts of the world doing something notable with denim?
NB: In the last two years in the Arabic countries, where the revolutions have been taking place, you notice also that the demand for jeans is increasing. So I think there's a still this feeling of liberty and power to them.
HUMANITY: Are there any strange items from denim history?
NB: Well, we have a pair of embroidered jeans that are from the 1970s and were used for a marriage—it had a tunic to wear with it. And that is something you do not see today that much.
HUMANITY: Do people in the Netherlands like to stick with local designers?
NB: Mainstream, they go for the big brands. But denim-heads and people who are more into denim, they like the story behind the denim and they choose Dutch designers. But I think we have several Dutch designers who have quite an international look and feel, so some people will not see the difference.
HUMANITY: When you work at the museum, do you wear denim every day?
NB: Most of the time I do, but not all of the time. We have quite a broad collection. We have 17th-century pieces up to recent national and international designers, and I'm working on different projects so I sometimes feel like that animal that adjusts to the space—the chameleon.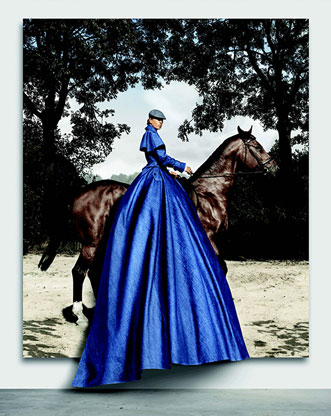 —