Where is Citizens of Humanity produced?
We are one of the very few vertically integrated denim production facilities in the United States. That means that every pair of jeans is made in Los Angeles. We personally manufacture everything ourselves in L.A. in our own sewing and laundry [washing] facilities. This is all within a 10-minute radius of our design studio. This is crucial to us, as it allows us to have complete control over the quality of our product.
How long does it take to make a pair of jeans?
The sewing alone can take between three and four hours. Then the laundry can be as long as five hours; it really just depends on that specific wash. It's a handmade product, so it's so much at the pace of the hands working on it. It's even possible that some can take as long as two to three days before it's totally complete.
So much emphasis is placed on fabric quality—what's the difference between a great fabric versus a less expensive fabric?
One of the key aspects of premium denim is pursuing the beauty of the antique or authenticity of old indigo clothing. The quality and performance of the fabric are determined by three elements:
Yarn: The selection of different-quality cottons, how those cottons are blended together and how they are spun affect the quality of the yarn. To ensure the performance of indigo dying for premium denim, which is critical to achieving a deep, beautiful blue color and at the same time to getting a great abrasion, the selection of cottons, the blend and the spin should be designed in a very sensitive balance. It's not just about a dyeing method or how many dips in dye it takes to give a beauty of indigo color and great fading after wearing or washing a pair of jeans.
Dyeing: Dyeing the yarn with the indigo [a living bacteria] and maximizing its performance requires a long-term know-how to master the chemicals, dyestuff and equipment used in the process.
Weaving: Why does selvage denim have such authentic features? It is also because of weaving. Old shuttle looms weave fabric very slowly, with much lower tension/stress than the latest super-high-speed weaving machines. But some mills in this world try to mimic this feature by using modern techniques developed in their R&D departments.
When people say "Japanese fabrics," what does that mean, and why is Japan a great place for fabric?
First of all, Japan has been dealing with indigo for generations now. Indigo-dyed cloth-like kimonos already existed in 15th century. But more recently I'd have to say, for the last 25 years or so, the Japanese have actually bought a lot of the original machines that were used to produce denim. They have the know-how and technically they are very strong. They've studied and understand denim intimately. They've study the selvage, they've study all the fabrics from the heydays of denim—the '40s, '50s and '60s—and they've started producing those fabrics as they were made in those years.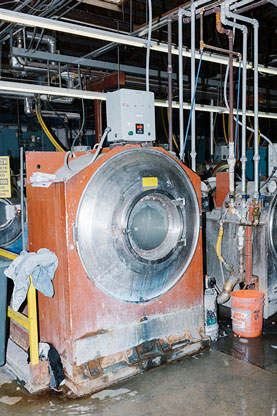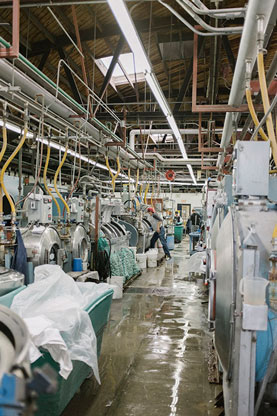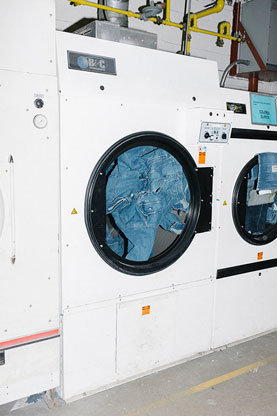 Explain selvage denim and what's special about it.
During the Second World War the U.S. stopped producing on the selvage machines, because we needed machines to quickly produce fabrics for the Army. So we stopped running the selvage because they have very short looms. And we needed to produce fabrics at a much quicker pace. Selvage machines are basically machines that weave only 30 to 32 inches wide; modern machines can be more than double that, and selvage is also much slower, because it weaves the yarn much tighter. If you make a yarn tighter and you go fast, it's going to break. So you go slower into weaving the yarn. So not only does selvage have a shorter loom, but it's giving you half of what any loom could give you fabric-wise today, and on top of that, it's like 75 percent slower than modern machines. It ends up being a huge difference. But you see the difference, especially when you wash the fabric, the way it breaks down and wears in.
How many people are needed to produce a pair of jeans?
It can take as many as 30 to 40 people, 40 sets of hands if you include the design team and pattern makers, obviously based on the details of a given pant or jacket. The sewing factory alone can be as many as 15 to 20 different operations including the cutters, then it goes to the laundry, then to finishing, where it's prepared to be sent out to stores.
What is the difference in producing a regular C-of-H MAN jean and a Premium Vintage one?
For our Premium Vintage range, there are a few things that make the product different. We typically use either selvage denim OR the same construction done on a wider loom—these are fabrics that we source from Japan or Cone Mills in the U.S., as they were one of the first to produce selvage in their White Oak facility. Our Premium Vintage range is about offering the denim aficionado who loves and appreciates vintage and authentic washes a modern interpretation of this look—slimmer fits, reimagined vintage jackets, with attention to intense and special washes that replicate the look of the past.
Can you explain the kind of stretch or spandex that gets used in the jeans?
So we use Lycra. The Lycra is weaved into the yarn of the cotton. It's mixed with the cotton, so ultimately it gives the denim a good amount of recovery. Now there are different kinds of Lycra, but most often we use about 2 percent. So it ends up being 98 percent cotton and 2 percent Lycra. That's why it ends up feeling good but not losing the look we are trying to achieve.
COH: Do you use a lot of chemicals and water for production of the denim? And how are you making strides to reduce that footprint?
JD: We've been looking for ways to reduce the huge amounts of water traditionally used in denim production. We, as a brand, are trying to transform every aspect of the production process to create environmentally friendly and socially conscious methods. We have invested a lot of time and thinking to come up with solutions.
We have invested in new machinery/technology that actually uses air to reproduce ozone gas conditions and give garments the look of vintage—using less water and energy in the process, and eliminating the need for processes such as bleaching. This lets us create a product that uses less time, less energy, less chemicals, less water and creates less pollution.
We are also saving water with our new laundry/dye machine system. This provides 50 percent more loading allowance along with 70 percent savings from water, chemicals and heating energy.
And more eco-friendly processes are being enabled by our laser technology. The laser is capable of creating abrasions, marking the denim when it is rigid and burning the fabric to achieve different destroyed or worn-in looks, allowing for fewer washing cycles. It's not perfect but technology is providing a solution to reduce our global footprint and at the same time not lose any of the quality and aesthetics in our denim.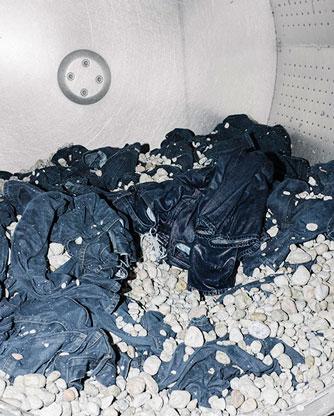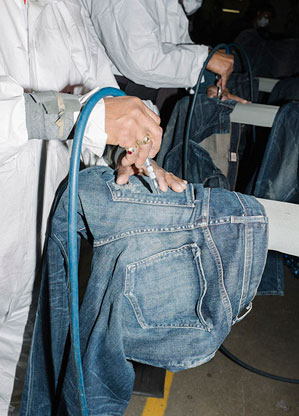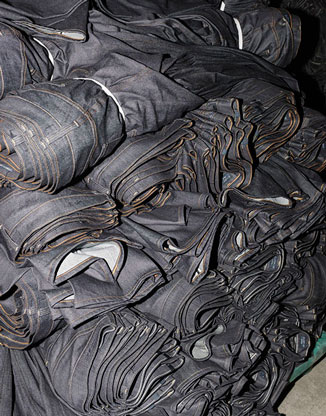 —