As a boy growing up in New Orleans, Kelly Graval had a rock n' roller and gang member uncle who had written his band name and gang—The Dukes—in huge letters with latex paint across a pair of bridges. Letters, written large and in public, would prove a lifelong fascination for Risk. "I moved out to California in seventh grade," he recalls, "after being kicked out of school for basically quitting on my own and racing BMX and motorcross all day instead. The truant officers would chase me but they could never catch me." By 1983, New York hip-hop was just starting to develop in Los Angeles. Kelly took on the name "Risk," and immersed himself in the nascent graffiti scene, which was his ticket to branching out from his West Side neighborhood to East Side graffiti hotspots like the Belmont Tunnel and the Radiotron club. In 1985, Risk became a founding member of WCA (West Coast Artists), the leading crew of the first 10 years of Los Angeles graffiti.
Risk's fluid lettering style looked graffiti-classic from the time he began to paint in the early 1980s, and his vibrant color sense was Southern California all the way. Because Los Angeles lacked the obvious canvas for graffiti—subway trains—Risk got creative, pioneering painting freight trains, freeway retaining walls and the large signs above freeways, which Risk's partner Wisk would call "heavens."
In 1988, Risk traveled to New York, where he made it a mission to be the first Angeleno to paint one of the city's subways. The following year, in 1989, he and Hawaii-native Slick were invited to represent the United States in the U.K. at the Bridlington International Street Art Competition, while back at home in Los Angeles, Risk worked on the sets of movies and music videos, notably Michael Jackson's "The Way You Make Me Feel." In the early 1990s, Risk, Slick and Dante gradually developed their clothing line, Third Rail, becoming a pioneer in streetwear.
For Risk, who would enroll at USC to study art, all of these undertakings were part of a continuum. "When I dedicated my life to graffiti," he says, "I dedicated my life to art. It didn't matter if it was graffiti, I wanted to be an artist."
While Risk always felt this way, he took his time in entering the gallery world. His first solo exhibition, Twenty Six, would not take place until late 2008 at Track 16 at Bergamot Station in Santa Monica—a building that he'd painted while abandoned 20 years before.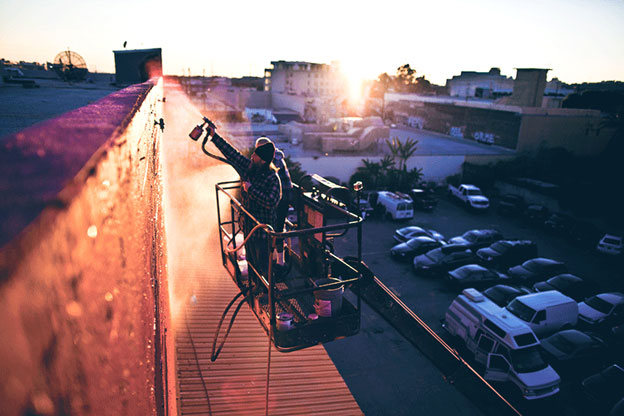 Shows and art projects would follow in rapid succession, none larger than the blockbuster Art in the Streets exhibition at the Museum of Contemporary Art, Los Angeles, where he took a starring role by painting an actual RTD bus that greeted visitors at the main gate. Obtaining the bus wasn't easy. "The people selling it were a large company who have large contracts with the city and state," explains Risk, "and they started getting cold feet because of fear of negative press. I was frustrated and wound up hitting a bus in the yard." Then, the exact opposite of what one would expect happened: "I got a call later from someone in the company that saw the bus and liked it, he had pull and arranged for the bus to be sold to me. Now, all I needed was more money—the bus was more than the allocated budget. A few of my friends at Citizens of Humanity heard the story, and a few days later, gave me check and said, 'Make it happen.'"
In Santa Monica in 2011, Risk and developer Adam Corbin made a media event when Risk and a friend painted a construction façade on a multi-million dollar home that Corbin was renovating. The artists' work simultaneously brought city citations and raised large sums of money for the environmental organization Heal the Bay. In the spring of 2012, Risk returned to the home with its renovations complete, and painted his vivid, bleeding colorwork again, this time directly on the house itself. He and Corbin then held a gallery show inside the home, where Risk exhibited his works in neon, paintings on metal license plates, and sculptures made in collaboration with many of Los Angeles' leading custom car artists.
That multi-colored and bleeding colorwork Risk created was part of his Beautifully Destroyed series, in which he paints with industrial sprayers on surfaces ranging in size from curbside fire hydrants, newspaper boxes, and trashcans to enormous city walls. These works allow for a departure from lettering as pure colorfield painting, or to function as a background for it.
Recently, he took that bus painting to a new level, as he took on an entire classic double-decker bus in London's Pleasure Gardens for a project for the 2012 summer Olympics. In Paris, as an ongoing project with Citizens of Humanity, for whom he has painted a large wall in Los Angeles, Risk flew to the City of Light to interview expatriate New York graffiti godfather Seen, paint the town and explore the Paris catacombs.
When asked if he ever thought he would be supporting himself through graffiti, Risk coolly answers, "Yes, from day one."