Photographer Wayne Levin, long celebrated for his gorgeously luminous underwater images of surfers and sea life, came of age seeing pictures all around him. From the time he received his first Brownie camera for his 12th birthday, he began viewing the world in terms of the way it could be broken down into separate frames. "I remember always driving around with my family in the car, looking at the world through the viewfinder of the camera," Levin says by phone from his home in Hawaii. "I was kind of entranced by that. I always loved trains, and the way you'd look out a train window and see a rectangle that would contain the world as it went by, like re-creating the experience of looking through the camera."
Always a fan of the beach and fishing with friends while growing up in Los Angeles, Levin became even more devoted to the ocean as a teen when his family got a sailboat. Yachts and sailboats were among his earliest models. At age 16, he took what he considered his first masterpiece: a photograph of a sailboat's mast reflected in the water. "It was kind of an abstract image that said something about the water's surface, and the way light and reflected light plays on it," Levin says. "That was the first photograph I felt was really a success."
No matter where life took him, Levin never put down his camera. After high school, he attended Brooks Institute of Photography in Santa Barbara for two years before leaving to become active in the civil rights movement. Facing the draft, he enlisted in the navy. Although unable to join their photography unit, as he had hoped, he credits these years with inspiring his lifelong love  of travel, which became another major influence on his work. Also, during a trip to Japan while in the navy, he acquired his first Nikon. Photographing under all different circumstances, he honed an approach that mixes planning and fluidity. "I'd say it's one third luck, tenacity and ideas," he says. "And being open to new things happening."
When Levin's family moved to Hawaii, he joined them there after his discharge from the navy in 1968. He soon began surfing and body surfing and lost whole days to catching waves. This obsession entrenched his passion for the ocean even more. He acquired a Nikonos IV underwater camera in 1983 and began taking his iconic underwater photos of surfers, which have a euphoric beauty and transcendence that goes far beyond a goal of rendering their subjects in an artistic way. "What I'm trying to do is communicate the mystery of the ocean, rather than describe the ocean," Levin says. "[My work has] really given me a love for the ocean, and I know a lot about how threatened the ocean is. Maybe I don't really feel like I've yet communicated that part of it as strongly as I would like to, and I've been thinking about how I can do that in an even more powerful way. The idea of just shooting beautiful pictures of something and saying that's going to help protect it, I  don't know if I buy that."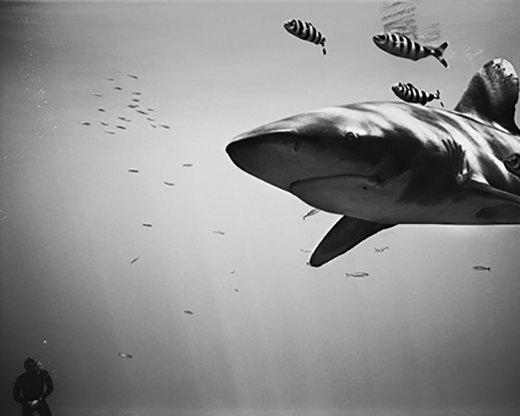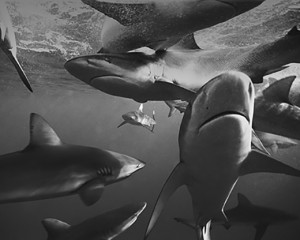 Over the years, Levin has continued to develop his knowledge of photography, both as a student and a teacher, studying at the San Francisco Art Institute and Pratt Institute, and teaching at the University of Hawaii; La Pietra, Hawaii School for Girls, where he founded the photography program; and the Dayton Art Institute, where he was an artist-in-residence.
The range of subjects Levin has photographed in his nearly  six decades as a photographer has been vast, from the Leprosy Settlement at Kalaupapa on Molokai (which became two books,Kalaupapa: A Portrait and most recently, Ili Na Ho'omana'o o Kalaupapa) and the Hospice of Dayton to the Hawaiian island of Kaho'olawe, which became the photo book, Kaho'olawe: Na Leo O Kanaloa .
Always questing to improve and expand his work, Levin remains devoted to black-and-white film for his underwater images, but has begun using a digital camera for his other photos. As with everything else in his artistic life, his decision is based on a thoughtful and studied contemplation of the art form. "I think the spirit of the photograph is communicated just as well in a good digital print as it is in a darkroom print," he says. "There is a little bit of difference because the digital print is ink on paper, so it's more on the surface, while the darkroom print is particles of silver suspended in a layer on the surface of the paper, but the  difference is really small."
Having by this point traversed the globe several times over, always with his beloved camera, and always in search of images that communicate something of both beauty and substance, Levin has accumulated quite a life's work. "Photography is kind of like a passport to special experiences, special places, so I'm  really grateful to have had that," Levin says.
—