In a theoretical economy with two goods and a fixed productivity, when you increase the production of guns you must simultaneously lower the production of butter, or vice versa. "Guns and Butter," the saying goes. You can only get more of something by giving up something else, but you always need both.
It's an esoteric economics reference, but it became the go-to expression for Craig Lieckfelt and his friends, thanks to an eccentric high school science teacher who used it gratuitously. Before Lieckfelt put his knife set in the back of a car and drove from his NYC apartment to Detroit in May 2012 to launch his pop-up restaurant, he called a childhood friend looking to affirm his name choice.
"He suggested that maybe it wasn't smart to open a restaurant in Detroit with the word 'guns' in it. At least not if I wanted people to come," Lieckfelt says. "I immediately thanked him for the affirmation, and it's been Guns + Butter ever since."
You don't need to spend much time with Lieckfelt to realize he's completely unimpeded.
Guns + Butter started with an eight-course, $65 dinner that Lieckfelt cooked in the kitchen of a breakfast joint in Corktown, a neighborhood considered by some to be the cradle of Detroit's burgeoning DIY artist scene. The three-night dinner series sold out, which set the precedent for the whirlwind that has followed SoHo, Brooklyn, Tribeca and the East Village in New York City. India, Singapore and London. A Dubai series in partnership with Rolling Stone magazine. The Roosevelt Hotel in Los Angeles (where Lieckfelt illegally served smuggled foie gras). A dinner on Parts Unknown with Anthony Bourdain. Intermittent returns to Detroit, where he recently received 1,000 reservation requests in less than 24 hours for 60 available seats.
It's not overly generous to say that the Guns + Butter pop-up experience has put the former Jean Georges sous chef on the world's culinary map. This 18-month sprint started with little more than Lieckfelt's incessant drive and culminated with Bourdain's televised pronouncement that this guy could be running a 300-seat restaurant in Las Vegas.
Lieckfelt is not opening a 300-seat restaurant in Las Vegas. Instead, he's realizing his lifelong dream by opening the brick-and-mortar Guns + Butter restaurant in a city whose residents didn't have access to a national grocery chain until this past year: Detroit. Lieckfelt's moving cherry-bomb radishes across a mandolin slicer, veins flexing through the ink of a faded Old English "D" tattooed on his forearm. The radishes fall onto the cutting board in crisp shavings, sliced so thinly they are little more than transparent circles with a fine red border. With tweezers in hand he meticulously layers them atop a piece of skinned walleye, caught from a Michigan lake by the father of his sous chef and lightly seasoned with salt and chili powder. The detailed scales of a fish emerge, and it's clear that Lieckfelt is creating something he's envisioned for months. Every movement is scientific in its precision yet simultaneously appears almost completely involuntary. He throws a dash of chili pepper across the layered scales and adds six miniscule green Thai chilies to the surface with painstaking accuracy. He starts indecisively rearranging the green chilies.
"Every bite should have a chili; you have to imagine the cuts."
It's a constant and delicate balancing of sight and taste. While hoping to maximize both, Lieckfelt will never sacrifice the latter.
He moves the single piece of walleye to the top level of a multitiered bamboo steamer. While it cooks he quickly whips together a dill and olive oil puree in his blender and lightly wilts fresh garbanzo shoot and radishes with a radish juice. He prepares an immaculately white plate with the puree and the garbanzo shoot and radishes, which are now heated and smell like summer. There is an art to plating, and Lieckfelt will do it over and over and over again until he finds the right collage of taste, color and texture. It's a race against lowering temperatures as he lifts the top of the steamer and moves the pristine piece of walleye from stove to plate, where it's slowly and carefully set in place. Lieckfelt has cooked for presidents, he's eaten at the most distinguished restaurants in the world, and he's relentlessly critical of his own work, but after plating the fish he looks up at me with a giant, childish grin on his face.
"That's some sexy-ass shit."
You can only be so refined in Detroit.
Two nights prior to this cooking session I'm sitting on a halfassembled sectional in Lieckfelt's sparsely furnished loft while he tries to explain an incoherent sketch in his oversized notepad. It's another bitter-cold February night in Detroit, and I'm staring at an outline for the walleye dish that he had been developing since the previous June. For every two explanatory sentences out of his mouth, there's at least one tangential sentence about some Jay-Z song playing in the background, or a piece of art, or a childhood anecdote from the city that lies beyond his windows. It feels like some sort of unproductive, two-steps-forward, onestep-back routine, until I realize that Lieckfelt finds and constructs meaning by piecing together these seemingly disparate parts. Jay-Z. Graffiti. Detroit. In some sense, he thinks like he cooks.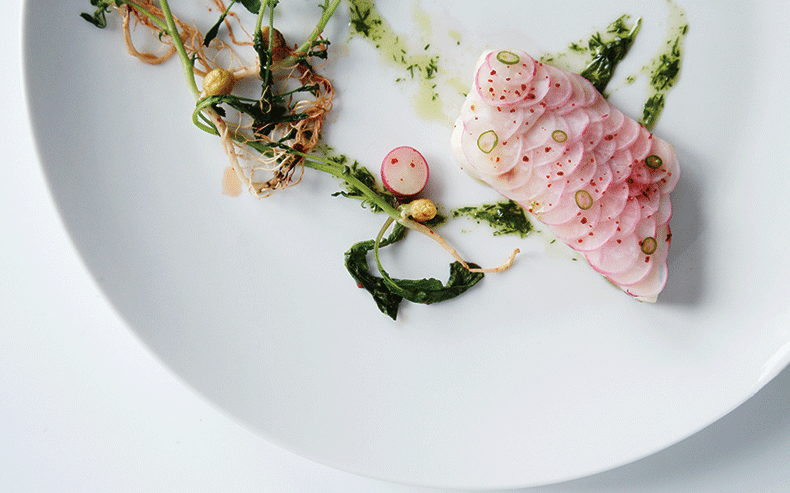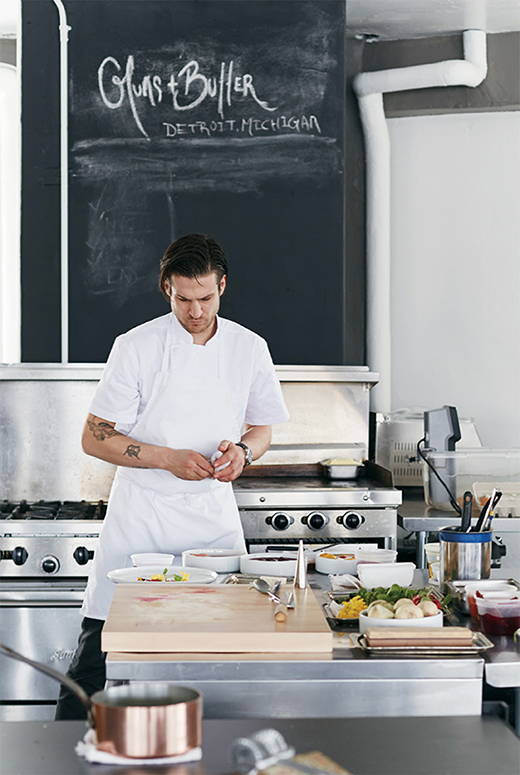 He points to the postcard taped beside the chicken-scratch handwriting in his notepad. It's one half of a flier for a 2012 exhibition at Detroit's Library Street Collective gallery. In June, Lieckfelt's business partner had sent him a text message with the image on that postcard. It's a painting by REVOK, the renowned L.A.-based graffiti artist who has spent a lot of time in Detroit in recent years, inspired by the city's overwhelming sense of possibility and enabled by the unencumbered freedom you find here as an artist. REVOK's first foray from the streets to the gallery world was a collection of 3-D collages he made by assembling various pieces of reclaimed wood he found throughout Detroit's storied cityscape, a third of which is abandoned. When REVOK attended a Guns + Butter pop-up last May, Lieckfelt respected his presence by serving the dinner's Baby Greek salad course on a plank of reclaimed wood. This subtle gesture, along with REVOK's attendance, is reflective of the general support network that exists between Detroiters who are pursuing tenacious dreams in this city of harsh realities.
It was two months after that dinner with REVOK that Lieckfelt received the text message with a picture of REVOK's painting. The vivid, brightly colored circles layered like the scales of a fish immediately moved him. They conjured images of overflowing stands of vegetables, fruits and flowers in Eastern Market. The evening sun sinking lazily into the Detroit River. Fishing up north. Summertime in Michigan. For Lieckfelt, memory of taste and memory of place are one and the same; he accesses one through the other. He realized that a particular technique he's used to prepare potatoes would effectively mimic the scaled texture of REVOK's painting, but that realization was met with a poignant discord.
"Potatoes are not a purely summer ingredient. I'm not going to cook a summer dish with ingredients that aren't summer specific. He adds, "That's not some marketing ploy; that's being a chef."
Lieckfelt immediately began experimenting with other preparation techniques and summer-specific ingredients. When summer ended before he had actually created the dish he was envisioning, he was forced to move the creative process from his kitchen to his sketchbook.
It's February before he's figured out the right ingredients, aesthetic and approach, and apparently they're outlined in the incoherent notes he's trying to walk me through. As his words trip over cigarettes and Jay-Z references, we decide it's best that he finally just cooks his REVOK-inspired creation, which is what he does two days later. The dish, like REVOK's work with reclaimed materials, is more than homage to the past or Lieckfelt's memory of it; it's his attempt to make those memories both present and transforming.
For Lieckfelt, cooking itself is an act of remembrance. It's the process by which he connects his past to his present and explores the possibilities of his future—a process that is deeply tied to a sense of place, and that place is Detroit. Guns + Butter is more than his tribute to the diversity of fauna and flora that exists within Michigan. It's more than his attempt to bring the taste of Detroit to the world, which he will undoubtedly do. Guns + Butter is Jay-Z CDs played over the speakers of his high school Chevy. It's sweat on inner-city basketball courts and undermined racial tensions. It's hunting trips up north. An egg fried with a pound of butter in his gramma's kitchen. The smell of spices and raw meat in Eastern Market. It's the city's salt mines. Summers on Belle Isle. Bitter-cold February nights. It's sacrifice and respect and family and hard work. It's a constant return to these things.
It's a return home.
When Lieckfelt finally opens the doors to Guns + Butter's permanent location in downtown Detroit this July, that return will be very real.
—