Chad Colby may be the most-loved meat chef in Los Angeles right now, but when he cooks at home, he usually goes vegetarian or even – gasp – vegan.  "I love vegetables!" Colby exclaimed over coffee at Stir Crazy on Melrose.  But "the one thing that I absolutely am not a fan of with vegetarian food is when they try to make a weird product into a meat product…  Vegetables are glorious!  Vegetables are delicious!  Let a vegetable be a vegetable!  I'm not trying to make a piece of meat look like a vegetable and taste like a one."
Truer words were never spoken, because Chad Colby does not try to make meat be anything at all.  As chef of Chi Spacca, Colby's entire ethos is centered on sourcing amazing product and preparing it simply and beautifully.  And it's working.  Since opening last February, Chi Spacca has been consistently busy and consistently adored, both in professional circles and its loyal customer base.  For those who haven't experienced it yet, Chi Spacca is a small, intimate restaurant where large specialty cuts are butchered in house and served family style.  There is also an extensive, much-heralded selection of house-cured meats.  Yes, there are vegetables.  Yes, there is fish.  But it's all about the meat, specifically the tomahawk chop, which Jonathan Gold dubbed the "consensus hit of L.A.'s meat world this year."
Chi Spacca is the newest addition to Nancy Silverton, Joe Bastianich, and Mario Batali's Melrose empire, which includes neighboring Osteria Mozza and Pizzeria Mozza, but you won't find the iconic dishes from those restaurants, pasta and pizza, served there.  "As we talked about the concept," Colby recalled, "Mario stepped in and had a great sensibility of, 'differentiate yourself from the other two restaurants.'"  In other words: do one thing, and do it better than anybody else in town.
And they do, largely thanks to Colby's self-proclaimed "obsession" with his work.  He treats meat with the deepest reverence.
Colby developed much of his cooking philosophy, and his initial interest in food, by watching Mario Batali.  When a high school sports injury left Colby couch-bound, he passed the time watching Food Network, specifically "Molto Mario."  (Well, that and cartoons.)  Mario Batali "would talk about why you cook something, not just how you cook it, and that's what differentiated it from a lot of the other shows," said Colby.  "He'd talk about proximity to soil and why vegetables are better when they're enjoyed closer to where they were grown and all that stuff.  There was an authoritative description of, 'one region has olive trees, so they use olive oil, so this pasta's from here, and where they have grazing land, there are cows, and that's where you'll have cream and butter in pasta.'  It just became a great explanation and I like when food makes sense historically."  Inspired, Colby started cooking at home, and soon enough decided to study restaurant management at Cal Poly.  And the rest just fell into place.  Well, almost…
When Colby first interviewed for the job at Campanile that paved his way to culinary greatness, he didn't hear back.  But instead of moving on, Colby refused to take "no" for an answer.  "I called maybe three, four times before they brought me on as an extra set of hands," he said.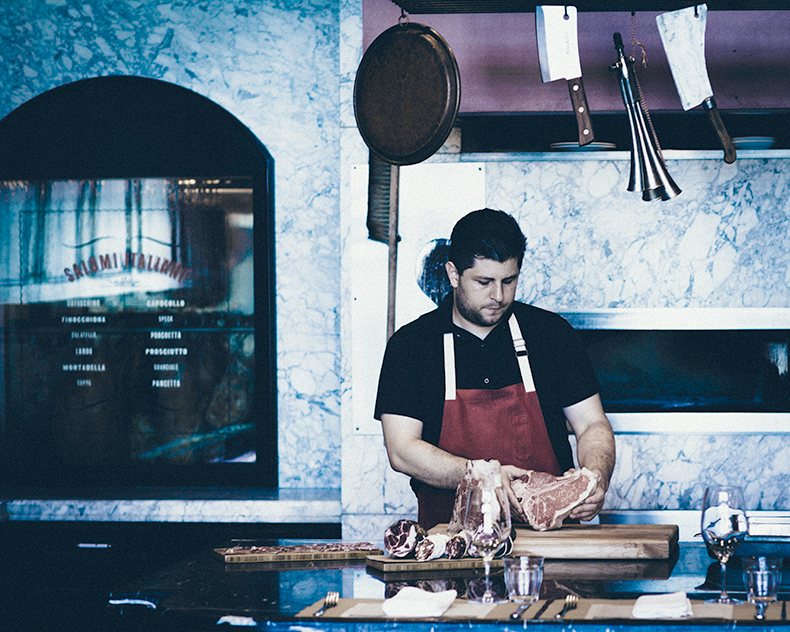 And that's not the only time he's fought for something he wanted.  If you go to Chi Spacca, be sure to order the focaccia, if only for all of the blood, sweat and tears it took Colby to track down the recipe and learn to make it.  The backstory: Nancy Silverton ate an incredible focaccia while traveling and the duo set out to recreate it, a task that turned out to be infinitely more difficult than either of them had anticipated: "It took me going to Italy and going to the kitchen where they make it and talking my way into the back and taking lots of photos and getting the contact for where they get their pans and special ordering the pans on a money wire transfer from Italy with broken translation on emails and all of these epically difficult steps."  It is difficult to picture Colby talking his way into a kitchen — or pestering Campanile until they took him on.  In person, he is soft-spoken and reserved.  But clearly, when it comes to cooking, he becomes a different beast.  "I dream about food, dream about restaurant service," Colby said.  "So much of what I do is an obsession."
And that obsession is paying off in surprising ways.  Colby had his first Hollywood role this year; he was the hand double for the opening scene of the Jon Favreau film, "Chef."  "It's just like boom boom boom… there's my hand!"  He laughed.  "It's maybe a three-second shot."
At Chi Spacca, however, meat fanatics can get much more than three seconds of Colby's handiwork; the kitchen is completely exposed, leaving Colby and his staff on full display.  The design is a holdover from the prior incarnation of the space: Scuola di Pizza, where Colby and his crew taught cooking classes.  Colby credits the rare open layout with a lot of the success of the restaurant, because seeing people eat your food so up close and personal creates accountability in the kitchen.  "You have to watch every bite," said Colby, "so if someone is disappointed in something, you can see it.  And it hurts.  And it'll keep you up at night."
—