Jeanne Damas never set out looking for fame, but it found her anyway. Since launching her first Tumblr account at age 13, the now-25-year-old Damas has become a digital force to be reckoned with, embraced by nearly a million Instagram followers for her snapshots of everyday life. Equal parts fashion diary and creative outlet, Damas' feed ranges from pictures of casual dinner parties at home with friends in the 11th arrondissement to casual streetstyle snaps, artful portraits of her cat, Charlie, and the view from her front-row perch at New York Fashion Week.
Since 2016, Damas has also been pouring herself into her truest passion, Rouje, a ready-to-wear online clothing brand comprised of understated wardrobe essentials that Damas and her Parisian pals could—and do—wear in their own lives, from '70s inspired velvet overalls to oversize blazers and thigh-grazing knit dresses. "I wanted to create my own universe," says Damas, who brought that vision to life with the help of her friends, including stylist Nathalie Dumeix and photographer Sophie Arancio.
Damas grew up in the 12th arrondissement, where life revolved around her parents' popular brasserie, Le Square Trousseau (which they sold in 2007 before opening their current bistro, Philou), located downstairs from their apartment. Paris felt more like a village than a cosmopolitan city to Damas, who spent most of her formative years within a small radius of the restaurant. "Three or four streets were my home," says Damas. "I knew everybody in the neighborhood."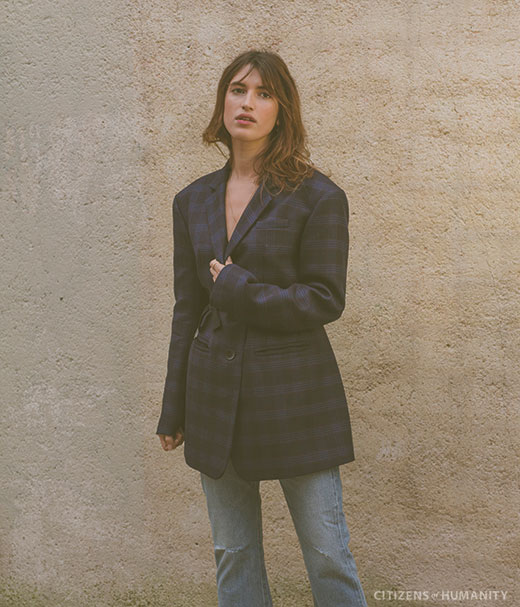 That included restaurant regulars such as designer Jean-Paul Gaultier (who helped open Damas' eyes to the world of fashion with a high school internship at his Paris atelier) and shop owners such as Dumeix, whose namesake boutique was on the same street as her family's restaurant. Every day after school, 12-year-old Damas would visit Dumeix, laying the foundations for a lifelong friendship. "It was the start of everything," says Damas, who launched her Tumblr shortly afterwards as a way to document her everyday life.
Damas' posts quickly caught the attention of her French peers (among them, fellow blogger Simon Porte Jacquemus, who went on to launch his namesake clothing line) and the fashion world, including contemporary brand Comptoir des Cottoniers, which tapped Damas, then 15, and her mother for one of its iconic campaigns. Soon after, designer Yasmine Eslami picked Damas as both a muse and collaborator.
Damas never dreamed that she would forge a career path with her online musings. "Ten years ago, Instagram and influencers didn't exist," she says. "An influencer as a job?" Damas spent five years after graduating high school going through what she calls a "little bit of a lost spell," taking part-time theater classes in between modeling. But it was also time for Damas to reflect and observe and channel her energies. "Because of this period, I am who I am now, so I am happy."
Last year, Damas teamed up with French journalist Lauren Bastide to turn her lens on the women who inspire her with their debut book, In Paris. The goal, says Damas, was to break down the tired cliché of the Parisian woman. Damas, who featured 20 people for the book, from friends to strangers off the street wanted to communicate the real beauty of the Parisian woman, not just the superficial: "Beauty is much more than a perfect face."
—