"I'm serious about living in the moment," says Markus Hennes. "I enjoy it, and I do it." It's a philosophy he abides by not only personally but also professionally, steering his career in fashion toward his current role, as Citizens of Humanity's European sales director.
Hennes didn't start his career in fashion but seemed destined for it nonetheless. At 17, the Cologne native trained to become a dental technician, but he quit after two years to try his hand at fashion after being inspired by friends who owned a clothing boutique. "It wasn't as much a profession as it was a community," he says, recalling fond memories of accompanying his mother, also a boutique owner, on buying appointments as a young child. Hennes soon landed a job at a well-known German fashion agency in Cologne and never looked back at the dental drill again.
It was the early '80s and "fashion wasn't something you studied back then," says Hennes. "It was more about intuition." At first, Hennes saw his foray into fashion as a way to meet new, interesting people, but he quickly graduated to producing an in-house clothing line for a German store with his girlfriend. His own fashion agency soon followed. At the time, international brands didn't have much of a presence in Germany, so Hennes and his new company quickly became a go-to for labels looking to get a foot in the door and develop relationships in the local market.
But just as his mother's line of work had planted a seed for Hennes, so too had his father's with the restaurant business. "I always liked to host people in my home," says Hennes, who was ready for a new challenge. So he opened up a traditional German restaurant with a contemporary twist in his hometown on the outskirts of the city. Yet in his heart he missed the fashion industry and the relationships he had developed, so almost three years later, in 2007, he jumped at the opportunity to move back to Cologne, eventually settling into his present position.
What Hennes loved about his job when he first started in fashion is what he still appreciates about it today. "The product—a product I like that focuses on quality and innovation. That makes it super enjoyable," he explains. "Since I was a child, fashion has felt very organic to me." So it's no surprise that he's cultivated his own denim uniform of sorts over the years. "When I touch something I like, I want five of the same style, and I wear them nonstop," he says of his latest obsession with raw denim.
And though Hennes gave up a career as a restaurateur, he still held on to what he loved most about that world: cooking for friends. "Food was always very important in my family, and lunch and dinner were always spent around the table together. It's still important to me," says Hennes, who enjoys hosting dinner parties at home on the rare weekend that he's in town.
Every year, Hennes spends between 180 and 220 days on the road, traveling to markets across Europe. Some days he might wake up in London, others in Paris or Vienna, a city he loves for its rich blend of history and modernity.
"I love traveling, seeing new things, making the time to have breakfast on a terrace, watching people," he says. "It's part of my job, and I love it. It helps me to understand markets, it teaches me about people. There is no typical day in my job. Every day is a new challenge, and that's what I'm honestly enjoying the most."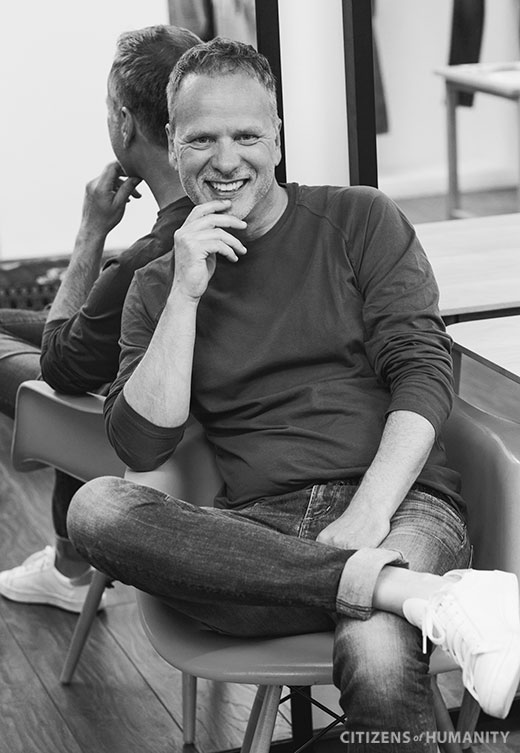 —