If you've turned on the radio in the last two decades, you've heard the work of Kasseem Dean, aka Swizz Beatz. Since breaking onto the music scene at age 20 with DMX's "Ruff Ryders' Anthem" in 1998, the now 38-year-old überproducer has cemented his place in music history, racking up accolades for his work with everyone from Whitney Houston and Gwen Stefani to Jay-Z, Drake and his own wife, Alicia Keys. Not bad for a kid from the South Bronx.
But Swizz's talents transcend the hip-hop landscape, and to define him by his musical accomplishments is to merely scratch the surface of this modern-day Renaissance man. Never one to rest on his creative laurels, this devoted father of five is just as likely to be found laying down tracks with Kendrick Lamar as dreaming up a collaboration with a major fashion brand or scoping out emerging artists for an art show.
Chalk it all up to his natural instincts as a producer. "Everything I do is putting people together," says Swizz. "That's where I have the most fun." That also applies to his latest endeavor, No Commission—a platform designed to promote fine artists and help them sell their work without any middlemen or fees, allowing them to take home 100 percent of the proceeds from their sales. "It's like, what if I can create an art fair that's 100 percent for the artists, because at all these fairs, the galleries win, the collectors win, the fair wins and the artist has got to kind of find their way home," says Swizz, who conceived of the project not only as a way to empower artists but also to connect them with their buyers.
"If you ask the average millennial of the ways to get into art, they all have different answers. And none of those answers would have been heard of five years ago—maybe even two years ago," says Swizz, noting the similarities to the music industry. "When I started music, you didn't have the access of iPhones and all the different ways you can reach your fans now, and all these cool apps and social media platforms," he says. Case in point: his 16-year-old son, Prince, who turns to music-streaming service SoundCloud to find new artists. "I was like, so you don't go on iTunes? He's like, 'No, that's too commercial.' " The rules had changed.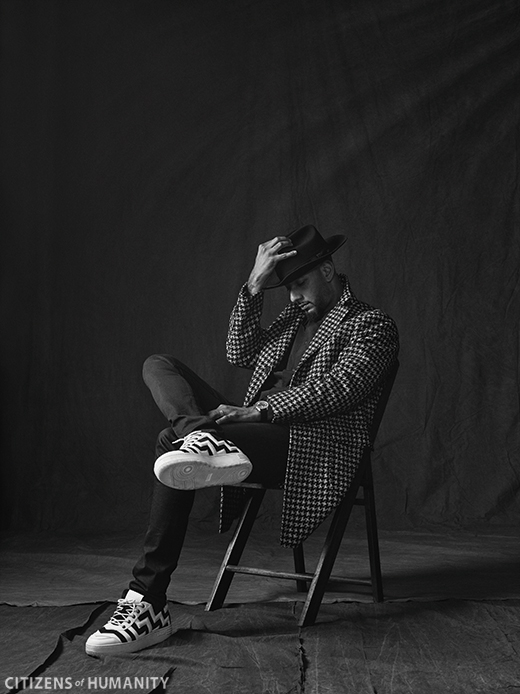 Meanwhile, Swizz was already starting to witness firsthand the power of social media through his own Instagram, where he would regularly promote up-and-coming artists to his 1.5 million followers. "They would write me back and say, 'Man, thank you. I just sold out my show and I've got galleries fighting over me,' " recalls Swizz. "I thought, OK, cool. I have some power here that I can free some artists with."
Swizz launched the No Commission Art Fair in 2015 during Miami's Art Basel, where 35 participating artists sold more than $1 million in artworks. That success story was repeated in the fall of 2016 with the inaugural No Commission Art Performs, a free four-day celebration packed with musical performances, art showcases and installations, held in his native South Bronx. Featured artists ranged from established talent such as Kehinde Wiley to up-and-comers like So Youn Lee and Delphine Diallo. "Merging music with art and culture and fashion and all those things just created an energy where people were like, 'I'm going to buy a piece,' " he says. Ninety-eight percent of the artists sold works, and 70 percent of the purchasers were first-time art buyers.
"I'm a Virgo—we want to please everybody," says Swizz. "We want to do a lot of cool things for people, so I am happy when other people are happy, too," he says, citing the success of the No Commission artists as an example. But happiness for him also means spending time with his wife and children, which he prioritizes above all else. "I think the balance to making everything work is just making everything work. You know, you can come up with a thousand excuses. Everybody's busy. It's like, 'No, this is what I'm doing and that's that.' Something has to take a loss. It should be your family as little as possible," says Swizz, who has two children, Egypt Daoud and Genesis Ali, with Keys. "We have rules where we can't go two weeks without seeing each other. You can be wherever, if it's two weeks I've either got to come to you or you come to me because you have to maintain some type of balance, because we both live busy lives. We both have big missions to fulfill."
The greatest lesson of marriage and fatherhood, he says, is one word: communication. "We never raise our voice in eight years at each other. Not one argument, not one fight. Why? Because the communication is, 'Let's have dinner tonight and go over a couple things,' rather than not communicating and building up 15 things to talk about."
As a convert to Islam, religion is a guiding principle for Swizz, who is constantly learning life lessons from the people around him. That could mean a stranger with whom he had a random, two-hour conversation ("Some of those people I never saw again in my life, but those lessons that they told me and explained to me stuck with me a lot") or his artistic heroes, whom he describes as "all of the people that had a dream and believed in it and didn't give up because of what other people said." Ultimately, he says, it's all about taking a stand: "If we don't fight for something we're going to have nothing. How are we going to make change that you want and how are you going to be responsible for the change that you want?"
For Swizz, that doesn't mean just blazing trails in music and art. What's most important, he says, is finding ways to positively impact the lives of others.
"Forget a Grammy. That's something that you could leave on the table. That doesn't continue doing anything. It's a statue of a moment, but if you can create something that keeps on giving, then that's the truest blessing."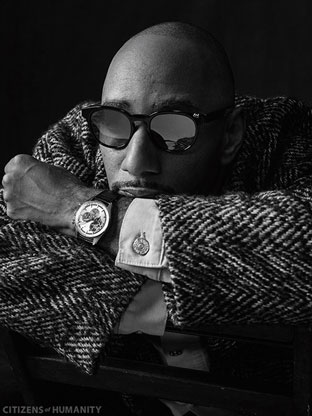 —