CURATOR, FATHER, RAPPER, SURFER— "INTERDISCIPLINARY" IS A GOOD WORD TO USE TO DESCRIBE MICHAEL DIAMOND, A.K.A. MIKE D. GROWING UP IN NEW YORK CITY IN THE 1970S AND '80S THE SON OF RENOWNED ART DEALER/ COLLECTORS HAROLD AND HESTER DIAMOND, MIKE EXPERIENCED THE BUBBLING BOUILLABAISSE OF PUNK ROCK AND HIP-HOP AMIDST A CLUB AND GALLERY SCENE THAT RECOMBINED THESE DISTINCTLY DOWNTOWN FLAVORS. BEASTIE BOYS, THE RAP GROUP HE FOUNDED ALONGSIDE CHILDHOOD FRIEND ADAM YAUCH AND ADAM HOROVITZ, EVOLVED FROM BRATTY BEGINNINGS TO DEFINE MUSICAL DIVERSITY AND CONSCIOUS FUN OVER A MULTIDECADE CAREER.
MARRIED TO THE FILMMAKER TAMRA DAVIS, DIAMOND IS A PROUD PARENT OF TWO BOYS, AND THEIR FAMILY LEADS A BICOASTAL LIFESTYLE THAT ALLOWS FOR DIVERSE INTERESTS AND PROJECTS. IN 2012, MIKE CURATED TRANSMISSION L.A.: AV CLUB, A 17-DAY MULTIMEDIA ART FESTIVAL AT MOCA IN DOWNTOWN LOS ANGELES. IN 2013, FOLLOWING THE DEVASTATION OF HURRICANE SANDY, DIAMOND AND VISIONARY RESTAURATEUR ROBERT MCKINLEY DEVELOPED ROCKAWAY PLATE LUNCH, A HEALTHY-EATING FOOD TRUCK THAT SERVED AN ESTIMATED 20,000 FREE MEALS TO RESIDENTS OF QUEENS AND BROOKLYN WHO WERE LEFT WITHOUT POWER.
HERE, DIAMOND SPEAKS WITH HIS FRIEND, LONG BOARDING SURF GODDESS KASSIA MEADOR, ABOUT WAKING UP, WAVES AND THE BENEFITS OF BEING A DAD.
Everyone has their different times of day that they get inspired. What are your peak hours of creativity?
In different times in my life it's been different. For so long I was only a night person. I could only create at night and work until 4 in the morning; that was my zone. Then it totally shifted. I cycled around to the opposite, where now I'm so psyched to get up while it's still dark and take a shower before it's hot and know that when I come out the sun is going to just be up and I can really focus. I have all this access to my mind and that's a really cool free moment.
Do you vibe more when it's rainy or sunny?
Rainy moments are good for me to focus on music because then I'm less distracted. When it's sunny I always get a little bit jealous when I'm inside in the studio. You tell yourself, aw it's so nice outside. Life's better in the sun—what can I say?
That's why I love California. So, who are your heroes?
Why are heroes such a big thing? There are so many musicians that I look up to that are incredible artists. Artists that I think are incredible. They're not necessarily heroes. Gandhi is a hero. Gandhi should inspire my daily life, but maybe he might not inspire my daily life as much as a musician might or a book that I've read.
What is your all-time favorite book?
I'm not good with all-time favorites, but there's a book called Ringolevio that I read when I was a kid, and I'll still go back and read it. It's kind of like how Basketball Diaries is a coming-of-age type book. I always related to it. I don't even know if it's in print. The title Ringolevio comes from the name of a street game in New York City that you played, like stickball.
Like stickball? Cool. I love that!
Emmett Grogan wrote it. He was a New York City street kid who moved to San Francisco and ended up in this whole movement the Diggers, who were like pre-hippie radicals. And the book is about the Diggers too.
What are the movies that always stick with you?
Probably Wes Anderson's movies, like Rushmore and The Royal Tenenbaums. He has this crazy eye for detail that makes his movies real works of art, but then they have this incredible emotional heart to them too.
I just saw his new one, The Grand Budapest Hotel. 
I don't even want to know if you liked the movie, I just want to see it!
My friend Spike's new movie Her I really loved. That was incredible. It operated in this surreal circumstance but then all of the issues are just relationship issues that we always have. What's real, what isn't real, what's love, what are the boundaries? Can connections last? Are they meant to just come and go?
And even the connection of the emotional and physical, which is so interesting.
I thought it was really cool that he set it in the future but it wasn't people in silver spacesuits—it actually seemed plausible. That gave it a surreal edge and added another dimension of meaning to these questions.
In that future, people can't even connect anymore because they've been so virtualized.
But we also have that now. You can have that because of technology, but you can also have that without technology being the factor.
All right, what's your favorite grub spot in New York? Maybe your favorite spots for breakfast, lunch and dinner?
I would work backwards. For dinner there's this place called Marco's in Brooklyn that's not that far from me. It's traditional Italian. The same people have this other restaurant called Franny's that's also really good. I feel like the trend right now in New York is that everyone's trying to top each other. There are so many talented chefs and such good food, but everybody's trying to come up with something that somebody else hasn't done. Simple is good if you can do it. That's almost harder to pull off because then you have nothing to hide. Marco's is like that. There's a restaurant called Charlie Bird in Manhattan that has super good wine and really good food. And they play good hip-hop so I give them props. Then for breakfast or lunch, it's Mogador in St. Mark's Place.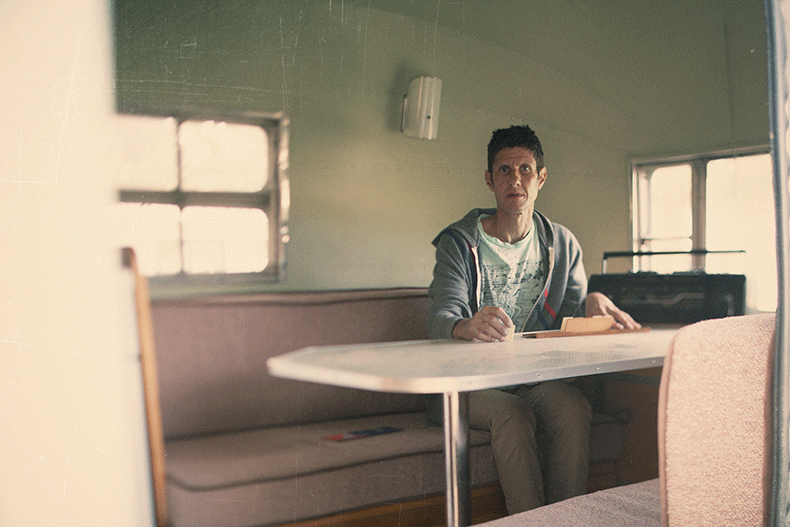 You've done so much in your life. With your kids, are you concerned that everything you've done is going to overshadow them or make them insecure about their own dreams?
That's a good question. I get so fueled by my friends that I'm lucky enough to work with, so I just keep my kids incorporated into my world, so they're exposed to all the same people that I'm excited about. I think that's a positive thing because what's normal to my kids is that people create stuff. I mean, we're all freaks, but they don't think we're freaks for doing that!
It's funny the way things can stick with you from when you're a kid. I remember when Brittany Leonard would surf in Malibu all the time. Joel Tudor said she'd developed something called Point Break Syndrome because all she ever did was surf a right-hand point break. And I was maybe 15 at the time, and I was like dude, Point Break Syndrome? I don't wanna get that!
Point Break Syndrome—that's funny. This morning we surfed Drain Pipes. We looked at the cam online and the surf looked super small so we just grabbed long boards, lines, threw them in the car, went down and surfed. It wasn't that it wound up being even that big, but I would've actually been much better off on a smaller board. Instead I had a long board and no leash, which in a way made it so much more fun because it was so much more challenging.
When you play music, then, do you see the things that you're playing? Do you see the sound that you're creating?
Sometimes you'll make music and you'll imagine a mood, you know? It'll be more of a visual mood. As a band we were always super stoked and excited to work on visual stuff because it was another part of the challenge. We were always just as excited to figure out what our record cover was going to be or what the music video would look like as we were making the sounds. Those things went together.
We'd go on tour and talk about what projections we'd use as the backdrop. When I got the opportunity to curate the MOCA show, even though it was completely crazy for me to do it, I was able to because I had had that experience combining visual elements and music. It gave me the tools, I guess.
That was such a great show. It was like you could really feel all these passions together inside the space.
Yeah. I think with the heaviest pieces—and this might be corny to say—but it can be a photograph or a painting, or even when you walk into a building, it's almost like it will create this frequency. It's a frequency you'll feel.
Totally, I feel that. It's like that low hum.
That's it. And I think what we all chase is that moment when you just connect with something and it really moves you. You can have that in visual art, photography and painting and you can have that in music or while you're watching a film, where you're completely inside an experience. And that's why those things intersect with surfing, and skateboarding too. You're just completely sucked into that experience.
Growing up, you were definitely in the hype scene in New York in the '80s when New York was really blowing up. Talk about that and how all the art and the rest of the city influenced you.
Growing up in New York City, I was always around visual art and totally stimulated by it. Art and music always seemed the same to me. Music grabbed me and I went like into it 180 million percent, but visual art was always around me, you know? And it was always super important. I feel grateful to have grown up in New York at that time. First of all, I was a kid running around clubs and doing crazy shit. At that time people moved to New York because they were a writer or a photographer or a musician or maybe they didn't even know yet. Somehow New York was affordable enough. Now you couldn't do it because it's prohibitive. But then, you really could. You had music from all different takes all happening in New York. And now you can get that on your laptop or phone. But back then the only way you could get it is if you were there. I mean, if I were 13 years old now, I would still have that same process of discovery, right? But I could be anywhere. Still, it's not the same as actual physical proximity to something. I think New York is the same in that it's still a place where there's all kinds of rad creative stuff happening, but it's kind of shifted in that you can't just move to New York and survive. One of the things that keeps me in New York is that almost every day I'll see somebody who's like a walking freak show, and I mean that in a good way! I mean, why do you live in Venice? Because there's stuff happening that you feed off of probably, right?
Absolutely. And in places it's quiet as a bell, and you only have yourself to inspire you. Finally, what balances you?
Friends, surfing, breathing. [Laughs.] And more than any of it, my kids, definitely. Because you can be completely frazzled and caught up in your mind, but you have to be present with your kids. It's great to have people that you just have to be present with, and let all your stuff go.
—