It was 2009 when Justin O'Shea, who had just quit his job as buying director for the Kuwait-based company Al Ostoura, met Christoph and Susanne Botschen for coffee in London. Through a friend, he had heard the couple was looking for someone to buy for their site, preferably someone from outside of Munich who could bring a fresh perspective and turn the site into a sleek, modernized operation.
In the days leading up to his meeting with the Botschens, acquaintances warned him to tone it down a bit. The couple was conservative, so if O'Shea wanted the job, he should soften his look and maybe try to be more soft-spoken than usual. He did not take the advice. "I thought, they're not going to like me if I turn up one way and then I'm different the next day," he says. "I just went how I was: leather jacket, Doc Martens, black jeans, shaved head" (he had no hair at the time). He remembers them looking at him suspiciously when he arrived. "It was kind of like, is this guy going to rob us, or what's happening?" But then they sat down and spoke for three hours. He and Susanne had compatible ideas about fashion and the possibilities for a digital platform. When he got up to leave, Christoph politely thanked him for his time, said they would be interviewing for the next few months and would be in touch. But Susanne interjected. "I don't think so," she said, and asked, "Can you start tomorrow?"
In the years since he began working for mytheresa.com, O'Shea has become something of a fashion icon himself. He describes his personal style as "classic, clean and masculine." It consists of vests with ties, jeans and dress pants, items that really don't depend on seasonal trends, even though he's up on, and sometimes helping to shape, the seasonal trends in the women's markets for which he buys.
O'Shea fell into fashion almost accidentally. Raised in a tiny town in Australia's Northern territory, where his mother taught aboriginal children and his father worked in a mine, O'Shea tried going to college, but wasn't that excited about any one subject or career path. So at 21, he moved to Perth on the Australian West Coast, where he fell in with some new friends, one of whom owned a clothing store at which O'Shea started working. Murray, the man who owned the store, may not have had the fashion savvy that O'Shea has since developed, but he knew what he wanted. "There was never an in-between with Murray," O'Shea recalls. "That's probably the best lesson I learned from him. You can deliberate all day but that's not going to help anyone. You just need to choose."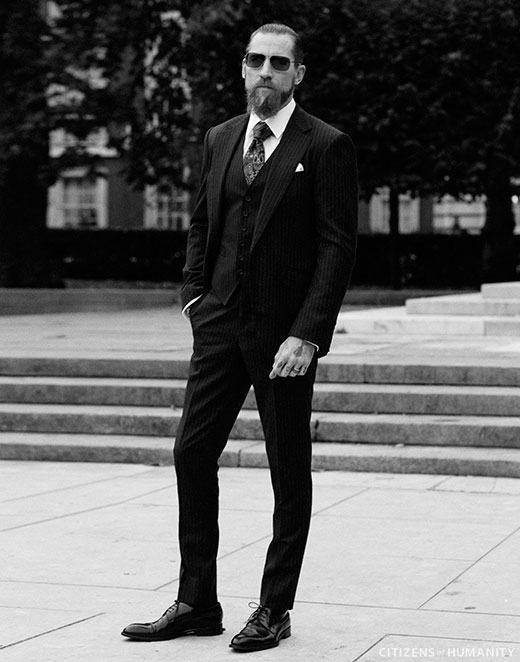 By the time he was 25, he had left Perth, worked briefly in Amsterdam and then landed in London, where he continued to work in the clothing industry. It was the only industry in which he had any experience, and he also found it was one in which no one asked much about his background. "Everything was personal opinion, and I guess, even from the beginning, I had a lot of opinions," he remembers. "And so I sort of bullshitted my way through it, and people were like 'you seem to know what you're talking about even though you've got no bloody idea.' I think that's what my first boss said." He moved to the Shoreditch neighborhood, wore all black and worked all the time—he liked that there was no weekend in fashion and that the world was full of colorful personalities.
He had just finished a gig styling the band Snow Patrol when his parents divorced and, because he was the least tied down of his siblings, he moved home to live with his dad, who needed help getting adjusted. For that year, 2008, he worked in the mines, getting up around 4:30 in the morning to start days that could continue until dark. "I thought I would get beaten up on the first day of work," he recalls, "but all the guys wanted to hear were stories of girls and parties in London."
Toward the end of his mine-working stint, when his father had learned to make passable meals for himself and acquired a Harley Davidson, O'Shea received a phone call from a man he had met a few times in London who ran Al Ostoura, a high-end group of fashion stores in Kuwait, and wondered if O'Shea would sign on to be his company's buying director.
So O'Shea moved to Kuwait, although he would spend at least 10 months of the year traveling with just a suitcase, living out of hotels. His first meeting on his new job was with Alberta Ferretti, the Italian designer, only he didn't yet know who Ferretti was. "There was a lot of that kind of thing," he recalls. "I had to learn extremely quickly and develop a certain rhythm right away because I didn't want people thinking, 'this guy doesn't know anything.'" He did learn quickly. Buying had two main facets, he discovered. "You have the prediction and gut feeling about what is right and what is wrong," he explains, "and then you also have the analytic side where you have reports at your fingertips which will show you what has worked and what hasn't." You also had to know your clients, which in this case were women in Kuwait who had certain cultural and religious restrictions to how they could dress but still wanted to have their own distinctive looks. O'Shea developed a certain formula to how he bought, and when a line like Balenciaga didn't have items that fit the formula, he might ask them to make something specifically for his market. Since he couldn't return something he had custom made, he had to have complete confidence in its salability.
After about a year and half, when he had gotten quite good at the formula, O'Shea became a bit restless. "It was super interesting but the fact is, it was on repeat all of the time," he says. "I wanted to move back to London and find a job that was more open." His meeting with the Botschens happened almost immediately after he returned to London, and then began his tenure at MyTheresa.com.
Even if his job is primarily to buy for the site, O'Shea has been involved in the site redesigns and editorial strategizing since the beginning. The site's aesthetic and content have to be in sync if it's going to be successful, which it has been. The staff has grown from 20 to about 250, and there are clients in Pakistan, Hong Kong, the U.K. and just about everywhere else. For O'Shea, trends, how they work and how he can be more in tune with his clients have become even more of an obsession over the years. "You can spend a lot of time with the numbers, but then you also have to be thinking outside the clothes about global trends. Art and music and architecture all play a role in fashion trends," he says, recalling how Valentino's collection inspired by Dutch master Vermeer coincided with a resurgence in interest in the Dutch masters among institutions and collectors. Then the interest shifted to contemporary artists, and the same people buying art at auction are buying clothes off of runways. "All these trends are colliding and there starts to become more of this umbrella feeling, which really dictates what the year is going to be like."
Since taking the job, O'Shea has done little else but work for MyTheresa.com. "It's probably a bit too extreme but it's so difficult with a digital platform—there's so much information, there's so much more you can learn," he says. "I always think that we can be better."
—