As soon as Labor Day hits, the fashion industry braces itself for their version of back-to-school bootcamp—12-hour workdays filled with shows, presentations, designer meetings and celebratory dinners commonly known as Fashion Week. In order to enjoy the glamorous moments the weeks afford, one has to be scrupulously prepared, with outfits lined up and go-to pit stops in mind. As Moda Operandi's general merchandising manager, Elizabeth Leventhal is an experienced fashion week veteran. We checked in with her to find out how she has prepared for and will survive the long days and nights of New York Fashion Week:
Essential Gadget: Around September 1st , it's time to change the case on my iPhone to a Mophie battery case (6).
Must-Have Apps: Uber and Resy, of course— survival for getting around, and securing last minute reservations for dinner at my favorite spots.
Source of Fuel: Of course, coffee always helps. I'm currently committed to La Colombe's Draft Lattes (7).
Favorite Pit Stop: A quick mani a tenoverten (9)— their TriBeCa location is close to [show venue] Spring Studios. Also, I would be lying if I did not say I will also pop over to Cafe Gitane (1) at least once.
Favorite Cocktail Spot: Sant Ambroeus Madison (14) when Uptown. It's across the park, but always worth the trip. Downtown would be Wallflower (8) in the West Village.
Everyday Scent: Rose from Le Labo (11)
Social Media Accounts to Stalk: @modaoperandi (of course!) and @Yourensemble and @JustinTeodoro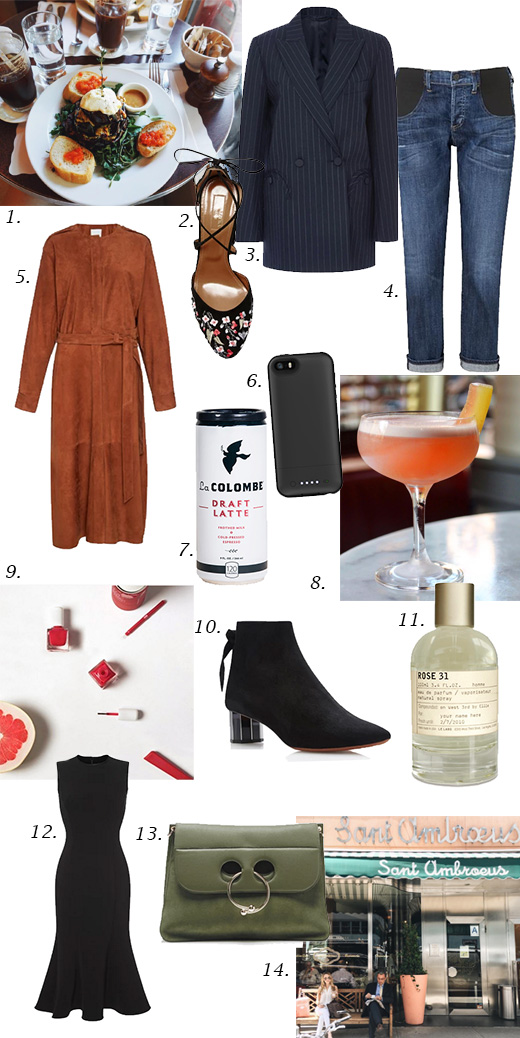 Fall Wardrobe Essentials: Since I am nine months pregnant this fashion week, the wardrobe staples have changed a bit. This season's will include: Citizens of Humanity Maternity Jeans (4), a Blazé Milano Blazer (3), a day-to-night dress like this Tibi Burnt Paprika Placket Suede Dress (5), a LBD like Dolce & Gabbana's Flared Midi Dress (12), my new obsession this season, J.W. Anderson's Large Pierce Shoulder Bag (13), any Aquazzura heels as you can run miles in them (2), and Proenza Schouler Booties which are perfect to take you from day to evening (10).
Photos:
1. @niamh_osullivan; 2., 3., 5., 10., 12., 13. courtesy of Moda Operandi; 4. courtesy of Citizens of Humanity; 6. courtesy of Mophie; 7. courtesy of La Colombe; 8. @wallflowernyc; 9. courtesy of tenoverten; 11. courtesy of LeLabo; 14. @santambroeus
—