To describe someone as a "contradiction" is to capitulate to one of the laziest clichés in the journalistic handbook. Within everyone lies some measure of opposing impulses. To varying degrees we are all saints and sinners, con artists and trusting souls, self-aggrandizers and humble servants. To call anyone, especially someone who creates things for a living, a living contradiction is simply to call them human.
But there's also a sneaky brilliance, as well as a deep well of inspiration, in those whose creative identity is borne in the embrace of contradiction, by identifying themselves as a product of opposing forces. Warhol, Dylan, Hunter S. Thompson, Kanye West—for them, inspiration lay in the blurring of traditional aesthetic boundaries. The French artist JR is a proud heir to that aesthetic tradition. He and his work exist in a liminal space, between authorship and appropriation, anonymity and self-promotion, outsider and insider.
It is both the source of JR's creative output and the origin of his astonishing rise from teenage tagger in the working-class suburbs of Paris to perhaps one of the most visible global artists working today. He has never received anything in the way of formal training, yet his visually striking work, the best known of which consists of giant "flypasted" black-and-white photographs of the disenfranchised mounted on building walls within their own neighborhoods, has become something of a global phenomenon. In 2011, after winning the $100,000 TED Prize for being an "individual with a creative, bold vision to spark global change," JR used the entirety of his winnings to fund the Inside Out Project, which recruits regular citizens to create their own JR-style black-and-white portraits, which are then emailed to JR's studio, printed and sent back to their creators to mount in their own environments. To date, more than 300,000 Inside Out portraits have been shipped and mounted in 129 countries, including some of the most war-torn, conflict-heavy zones in the world.
JR's gorgeous duplex art studio is found in a downtown Manhattan brownstone that he doesn't own or lease—it was bequeathed to him for a one-year art residency soon after he won the TED Prize. After being greeted outside by his assistant, Lucca, I'm led through a lobby and into the upstairs loft, which is rife with activity. Half a dozen assistants are at work on a variety of tasks, including printing out 36-by-53-inch photos that have arrived from around the world via the Inside Out Project and preparing them to be sent back to their creators to be pasted in their neighborhoods. I'm then taken downstairs, where I find a few more members of team JR preparing giants digital print-outs of his work. In the corner, in front of a desktop computer, sits JR.
Gone are the signature shades and the hat, replaced by a buzz cut and a pair of traditional eyeglasses. Had Lucca not introduced us, I'd have had no idea this was him. In person JR is engaging, passionate and truly inspiring. After recounting a funny anecdote about hiring an anxious Uber driver in Rio for a trip into the drug- and gang-ravaged favelas, where he maintains an art center for the impoverished local population, he shifts the conversation to the macros of his operations. He tells me that the New York studio, which clearly requires a tremendous amount of maintenance, not to mention a stack of monthly paychecks for the small army of employees, is really just a satellite office. His primary studio, complete with another team of assistants, is in Paris, and unlike the Manhattan location, it doesn't come for free. I ask JR how he manages to maintain his massive operation of overhead expenses, given that so much of his work is mounted on buildings he doesn't own and is thus unsellable.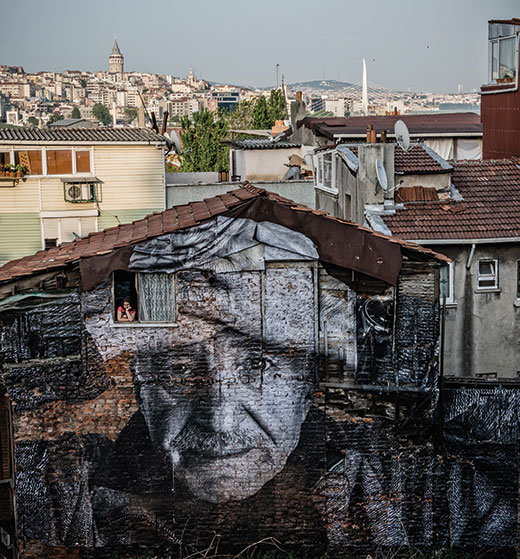 "Ninety-nine percent of what most artists do is, you know, pieces that they sell," JR explains. "Picasso was selling everything he would paint. Sometimes he would do a mural, but that maybe represented 1 percent of his work. In my case, 99 percent of what I do is not for sale. It's just me going to places, putting up stuff in the street that doesn't make any money. The 1 percent that I have, that's what I spend on creating artworks. That comes from gallery shows and the lithographs we sell online. That finances the operation." Given the breadth and ambition of JR's upcoming projects, including a massive installation at the Louvre, in which the museum will give him free rein of the entire building for 24 hours, as well as a documentary he's co-directed with French cinema legend Agnès Varda, the 1 percent/99 percent balance seems a precarious venture. JR agrees.
"I could be out of this place any day; I don't own it," he tells me. "Everything's very fragile. We spend money this year, but we don't know if we'll have money next year. Everything's like that. We go from project to project, one after the other, just by believing that it would happen, but there's no safety net. We don't run a company, even if it looks like we do."
JR's refusal to accept any brand sponsorship may have limited the financial upside to his projects, but it's also given him a degree of street cred that's allowed him to work in a number of pretty challenging environs and avoid the normally inevitable shakedowns. "When I was in the favela, the first thing the gangsters asked me was, 'How are you financing it?' And I said, 'It's just me. It's financed by selling my artworks and reinvesting so I could come here. If you don't want it, you can scratch it down. Nobody else is involved.' If I had said, 'Yes, Coca-Cola is paying for it—they're actually letting me do this,' the first thing they'd say: 'Cool, you pay us, too.' I've never had to get in those debates wherever I was in the world because people knew it was a completely free project."
JR's efforts to encourage citizen-generated art in conflict zones has not come without some skepticism, from both the art-world establishment and the impoverished populations that JR has encouraged to contribute to his various projects. In the 2013 HBO documentary Inside Out: The People's Art Project, which includes footage of JR's citizen-generated art being mounted in the ravaged neighborhoods of Haiti, Tunisia and the West Bank, a Haitian man observes that art will never fill his belly. It's a fair and sobering statement about the stark limitations of art activism as humanitarian aid, but JR's work has had an impact that has shown tangible results beyond simply empowering the disenfranchised to find value and dignity in making art. The series of images featuring rabbis and imams that he posted on the wall separating Israel from the West Bank settlements has been credited for opening the door to tourism between the two countries.
"After that project, thousands of people traveled to visit both places, where before there was no tourism traveling into Palestine," says JR. "So when you see that real action can happen after simple photos, just paper and words, that people see these images and have access to it in Israeli and Palestinian houses, and you realize, OK, even if it's a tiny contribution, it does have its own impact."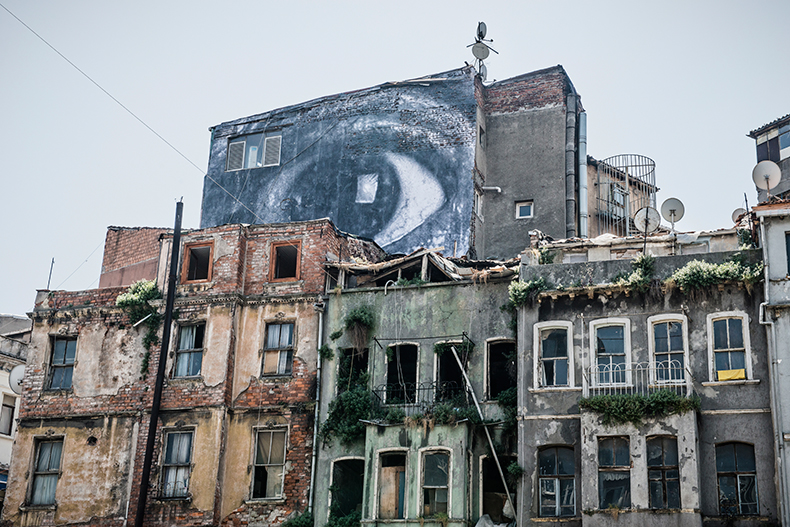 —