"Pickles, hot sauce, salami, beer and ganja." This is what Travis Lett will say if you ask him what five items are in his home kitchen at all times. Clearly a man who knows how to have a good time, the 38-year-old chef behind wildly popular restaurant Gjelina is enjoying his role as one of California's top culinary shape-shifters.
For the past five years, Gjelina (pronounced "jelina") has been hooking up Venice residents and visitors with fresh, integrity driven food that sends taste buds on an unparalleled flavor journey, which is why you'd be hard-pressed to find an empty seat at the frequently packed eatery on any given day. Situated at the corner of Abbot Kinney and Milwood amidst the neighborhood's bustling shopping stretch, the place is hard to miss, thanks to a mythical "Uniwolfcheetah" illustration drawn on an exterior wall by Mexico-born, Venice-based artist Diana Garcia. (Taking an Instagram photo in front of the drawing after dining at Gjelina is quickly becoming a Venice bucket-list item.)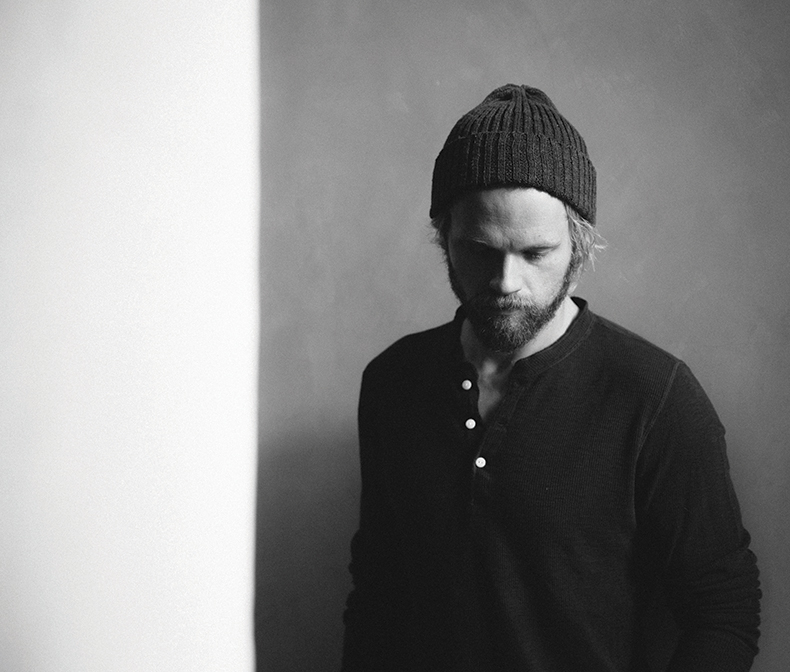 Also hard to miss is the handsome Lett, whose effortlessly cool stance, blue eyes and long, dirty blonde locks have caught the eyes of a host of noteworthy publications, including Vogue, who gave him a two-page spread in their January issue back in 2010. But Lett isn't here to model; the man loves to cook. A few of his menu crowd-pleasers include the Maitake Mushroom Toast with crème fraîche and truffle oil (phrases like "life-changing" and "crazy-good" are often associated with this small-plates order), the Tuscan Kale Salad with shaved fennel, radish, lemon, ricotta salata and breadcrumbs (a crisp and healthy starter must), and the mind-blowing Mushroom Pizza that includes goat and fontina cheeses with—you guessed it—more of that glorious truffle oil. So, what's the chef 's secret sauce for success? It's the fact that all ingredients are locally sourced, not plucked from some fantastical food hub in a far-off land. Lett prides himself on building relationships with those vital, behind-the scenes folks who help him deliver deliciousness on a daily basis.
"Working with the community of farmers I have gotten to know over the years has shifted the way I look at food, the way it's cultivated, and how it should be cooked and served," he explains. In addition to celebrating the roots of naturally flavorful foods and the farmers who raise them, Lett's own past is a key source of inspiration for both his cooking practices and visual projects. "Growing up in New Jersey, I ate at a lot of pizzerias and sub shops," he reveals. "Working-class Italian food was a big part of my early influences in food." Gjelina's crispy, thincrust pizzas honor that time in his life, and are infused with a dose of bold, modern ingredients that exercise innovation.
The restaurant's artistically inclined, decidedly rustic interior was heavily influenced by Lett's stint as a fine art student at the University of Colorado Boulder. "We are constantly trying to make sure that the overall experience at Gjelina feels artful and creative," he adds. "More than look at a dish as art, I believe the food is a component of the overall installation." After eating subs, chilling at pizzerias and creating art, Lett traveled to Los Angeles in 2003 to help open a now-shuttered sushi restaurant called Tengu in Westwood. The gig led him to the neighborhood's W Hotel, where he became NineThirty's executive chef at just 24 years old. It was there that he began crafting what would become his signature style: farm-to-table dishes that showcase seasonally sound ingredients of supreme quality. He moved on to become a private chef, eventually meeting real estate investor Fran Camaj, who was set on opening a restaurant in Venice.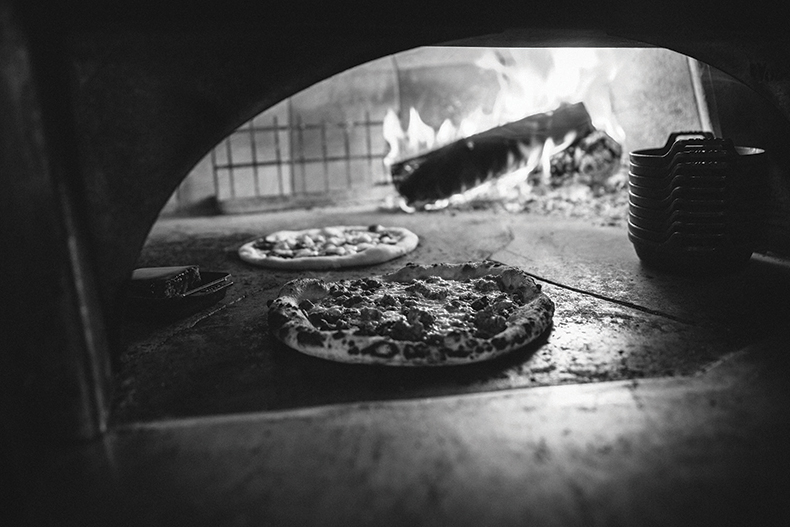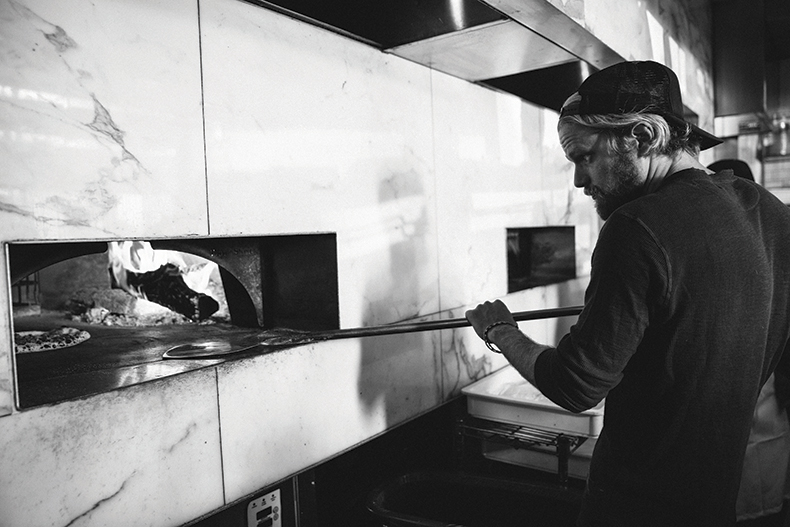 A longtime supporter of the beachside city, Lett partnered up with Camaj to open Gjelina in 2008. "I live in Venice and am passionate about servicing this community," Lett says. "There was no other option but Venice." Now a veteran in Cali's thriving foodie playground, he's witnessed the scene's gradual shift in awareness over the years.
"It's way better, he notes. "Ten years ago, there were very few neighborhood joints with killer food—everything was either fine dining or slop. Now, there are a bunch of cool mid-level places to eat that are casual but have serious chefs and food." As more West Coast mom-and-pop joints focus on sophisticated cuisine, Lett also approves another rising interest that he's been promoting from the start of his career: "The more chefs become interested in farm-to-table sourcing with both meats and produce, the more it will incentivize growers and ranchers to participate in localized food systems and grow with more intention and increased awareness on their overall impact," he adds. "This movement is here to stay." On the flipside, one flashy food development he can do without includes the ohso-trendy efforts of molecular gastronomy. "I could easily never see a foam or culinary 'dirt' again and it would be too soon," Lett quips. "Leave the liquid nitrogen alone, guys!"
Stay tuned for more from Lett's flagship restaurant and nextdoor annex, Gjelina Take Away (GTA), which is a deli-style take-out option for on-the-go types. It's also a great alternative for people who aren't lucky enough to secure a spot in Gjelina's main dining room. (Fan favorites include the Brisket Banh Mi, the Pork Belly Sandwich and the Squash Blossom Pizza. Expect to utter all the aforementioned food glory phraseshere, too.) If you can't find Lett at either establishment, go for a scenic drive by the beach. Who knows, maybe you'll spot him "flying down the Pacific Coast Highway on my '65 Panhead," as men who take their ganja with hot sauce often do.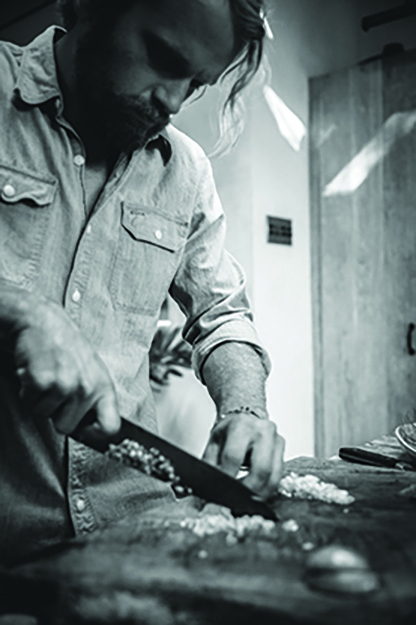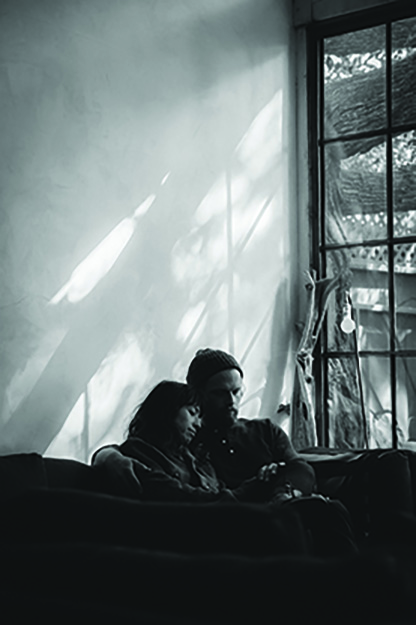 —