LOCATED IN THE LA BREA DESIGN DISTRICT IN LOS ANGELES, THIS INNOVATIVE CONCEPT STORE BRINGS TOGETHER BRANDS, ARTISTS AND CRAFTSMAN THAT SHARE A SIMILAR AESTHETIC AND SPIRIT. IN THIS INTERVIEW, CO-FOUNDER DAVIDE BERRUTO DISCUSSES THE STORE'S PHILOSOPHY AND EVOLUTION
Why did you start Shelter Half ?
A desire to create both a venue for commerce based on collaboration and free creative expression as well as a "shelter" where people can come together to discuss and further new ideas about furniture, art, food, music, etc.
It is very rewarding and refreshing to be able to do something fun and creative with people I love, without the pressure of a business plan, without having to be overly concerned about being commercial… Shelter Half is remarkably different from all the other spaces on the street, because it can afford to be more conceptual and does not have to invite participants solely based on the selling potential of their "products" but rather there is an interest in their point of view, in what they have to say through their products or art.
How do you pick the people and products you feature at Shelter Half?
We work as a team and we began by inviting people to participate based on our personal taste, our extended network of friends and the intent to foster a diverse community. We put up a playground and asked people if they wanted to come and play. We are excited to see that now after a few months, more and more people are showing up on their own and asking if the can come and play too.
The items in the store are all produced in the U.S. Why is this important to you?
I think it is important to take time to think about how things are made, where they are made, why they are made, how they are designed and if they have longevity. There is both a long tradition of craftsmanship and quality in this country and an incredible ability to innovate. I would like to be able to celebrate both at Shelter Half.
Besides being produced in the U.S., is there a point of view or aesthetic that ties all the items in the store together?
I would say that there is a loose plot line that can be felt, but it is hard to describe—it's vintage, it's modern, it's about comfort and aesthetics, but also taste, quality and honesty.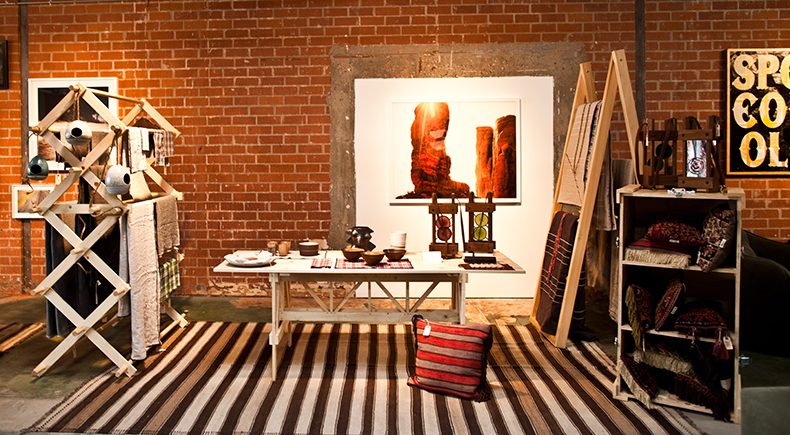 You are also the CEO of Environment, a sustainable furniture company. How is the philosophy of Shelter Half similar or different from Environment? What made you shift from a focus on furniture to also selling items such as apparel, accessories, food, photography and more?
I would not call it a shift in focus, but rather an inclusion of other important elements that, as a friend of ours put it, results in "strategies to improve the quality of life."
Shelter opened last December as a three-month pop-up, but you have since extended it indefinitely. What will happen next?
The most interesting and inspiring aspect of this project is that it is intended to be fluid and we can let it evolve without too many constraints into what it is supposed to be.
—