Vancouver Island is home to countless artists—from painters and potters to carvers, jewelers and glass blowers. A restorer of classic automobiles—defined by the Classic Car Club of America as distinctive in engineering or coachwork—might not be an  obvious candidate for inclusion in this group. Rudi Koniczek, however, more than merits it: The cars he restores are significant examples of 20th-century automotive art.
On its own, the Mercedes-Benz 300SL, under whose spell Koniczek fell as a young man, would qualify as art. "It's one of the sexiest things I'd ever seen," recalls Koniczek, now 64, interviewed recently in his casual, comfortable workshop near Victoria. So sexy, it turns out, that the car steered a newly immigrated Koniczek down the road to becoming a mechanic and, eventually, a world-renowned 300SL restorer. With its low, wide stance, long nose and top-hinged, gull-wing doors, the300SL combines the attributes of elegance and sportiness with performance that remains impressive by contemporary standards. It dashes from zero to 60 mph in about eight seconds and can attain a top speed of 150 mph.
From its introduction in 1954, the Gullwing appealed to celebrities of the era, with Sophia Loren, Clark Gable and Pablo Picasso becoming owners. Contemporary owners include designer RalphLauren and Jay Leno, who has written extensively about his car. Oprah Winfrey sold her 1954 Gullwing in 2008 to benefit the Arts and Culture Workshop at the Oprah Winfrey Leadership Academy for Girls, which she established in South Africa.
Other famous Mercedes owners bring their precious vehicles to Koniczek, including celebrities and heads of state, but he won't name them out of respect for their privacy.
Flamboyant, irreverent and an engaging conversationalist quick to laugh and jest, Koniczek seems to derive great joy from life,  and anticipates his clients will do the same. Before accepting a commission, Koniczek insists potential clients travel to Victoria for a few days to become acquainted. Sharing conversatio  over a few meals, Koniczek decides whether expectations and enthusiasm for the project are mutual, and if there's a basis for  friendship. Occasionally, Koniczek declines to offer his services.
Besides overseeing the restoration of more than 100 300SLs to date, Koniczek and his craftsmen restore a plethora of significant motoring icons, including Mercedes-Benz models from the 1920s and 1930s, Bugattis, Talbot-Lagos and Lagondas.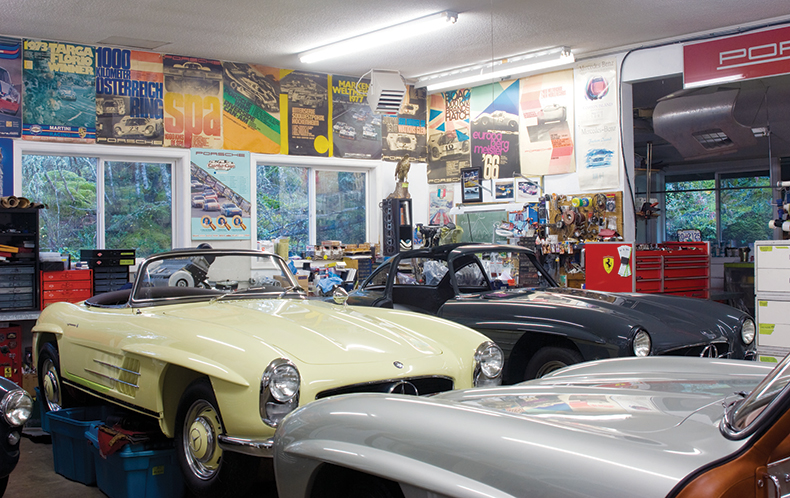 The list of countries from which cars arrive testifies to the quality of his work, with clients in the United Kingdom, Switzerland, Hong Kong and the United States. Koniczek never advertises, relying on the strength of his reputation. With 63 cars waiting to receive attention, the business plan seems to work.
Koniczek's childhood  as difficult. Born in Germany in 1949, he immigrated to Canada with his family in 1953 and settled in Toronto. His German heritage prompted bullying by his classmates. Recalling these experiences provides the foundation for one of the truths that guide his life: "Never hurt anybody, and never be hurt by anybody."
 An apprenticeship with Mercedes-Benz showed his talent and skill. Koniczek eventually became the national troubleshooter for the company, traveling across Canada to repair vehicles and training others in the mysteries of fuel injection and diesel  engines. In 1969, he made his first trip to Victoria, a journey thatchanged his life.
Koniczek left Mercedes-Benz in 1971 to work for himself and returned to Victoria, where he opened Autohaus, a shop dedicated to the service and repair of European cars. Despite its success, Koniczek decided to follow his heart and turned to the restoration of Mercedes-Benz 300SLs. "Always follow your passion" informs every aspect of his life and is often mentioned in his conversation. "What I do isn't work, it's a way of life, and money will follow passion. And if it doesn't, you're still having fun," he says.
Once a car arrives at Rudi & Company, the teardown begins. Depending on the condition of the vehicle, a full restoration can take up to 18 months and cost around $300,000. In the calm, bright workshop, 300SL components are quietly being repaired or refurbished. Says craftsman Ross Morrison, "The cars are so valuable, it is necessary for everyone to maintain focus. A moment's inattention can result in damage that can be expensive to repair."
Eight craftsmen work with Koniczek, the least experienced of whom has been with him for 18 years. Once a car is completed, Koniczek and the owner will take it on a 300-mile drive on  Vancouver Island. If satisfied, he delivers the car with a one-year warranty.
Gooding & Company, a premier international auction house, recently sold a special lightweight 300SL that had passed through Koniczek's care, after having been discovered in a rat-infested  garage in California. The pre-sale estimate was shattered, with the car realizing $4.62 million when the bidding ended.
"Rudi has gained a reputation for quality craftsmanship and  integrity. His business stems from a distinct passion for the cars, which is abundantly present in each finished project," says Gooding & Company specialist Paul Hageman, who adds that Koniczek is widely regarded as a leading expert on the 300SL.
The most important thing he can pass on, says Koniczek, is his passion for life, particularly in relation to young people. Since the early 1970s, Koniczek has welcomed students doing work experience into his shop. Two have made a career with Koniczek, working with him over 20 years. Students who go elsewhere are offered Koniczek's support in finding the career that will best suit them, as whatever they do should "not be a job but a lifestyle," he says.
With a happy marriage to Patti, seven successful adult children, and his professional success, Koniczek is a man—and an artist— who seems to have found both recognition and contentment living the values he espouses.
—