Rosson Crow's paintings, usually large and based loosely on haunting historical events or locales, have a brash, moody fullness to them. In her 2008 painting, "Lincoln's Funeral," the wheel of a dark carriage lurks in the shadows, beside blurred U.S. flags and behind drooping bouquets of pink roses and  yellw- white drips that recall sputtering fireworks. Her 2011 exhibition Ballyhoo Hullabaloo Haboob, at L.A.'s Honor Fraser gallery focused on mythic American tragedies, and included the black-and-white painting "Jackie's Strength," where a multitude of flowers blur together into a tornado-like swell on what must be the White House lawn.
Crow, who grew up in Dallas, moved to New York to attend the School of Visual Arts in 2000 and appeared in her first major exhibition, the elaborate K48 Klubhouse at Deitch Projects in 2003, before she had received her BFA. She enrolled in Yale in 2004, graduated with an MFA in painting in 2006 and moved to Los Angeles that same year. Since then, she's become a staple of this city's art scene—she's always dressed memorably, in bright prints, leotards r vintage ruffles, and usually smiling.
Though she worked out of a downtown studio when she first arrived, she now works out of a barn-like building adjacent to her Laurel Canyon home—"I always wanted to live on a farm," she told us. The day we visited her, she had just returned from Coachella, where she had seen the rapper 2 Chainz perform in the exact same Jeremy Scott print she had been wearing at the time, a testament to her taste's eccentric range. We spoke with her about painting, style and living as an artist.
How do you pick the themes of your exhibitions?
It is all pretty organic. Most of my work comes out of the love of history and researching historical places and events. I'm very interested in how time changes the way we view these events, and how histories get layered onto one another. I enjoy the process of excavating that history, finding the hidden spirits underneath.
When you paint, are you meticulous? Or do you paint freely and see what happens?
I am definitely more of a "free" painters…I always start off with a loose plan but I like to allow for things to happen that cannot be planned out. If you let the painting work its own magic, it will teach you things.
Like your paintings, you have a very unique style—wigs, Sequin leotards , showgirl headdresses. What  influences your your personal style?
I have always loved to dress up ever since I was a child, and I have always loved the idea of "glamour." Like with painting, I often look to historical time periods for my fashion inspiration, whether it is 1920's flapper, 1960's show girl or [a women in] Civil War era mourning gown.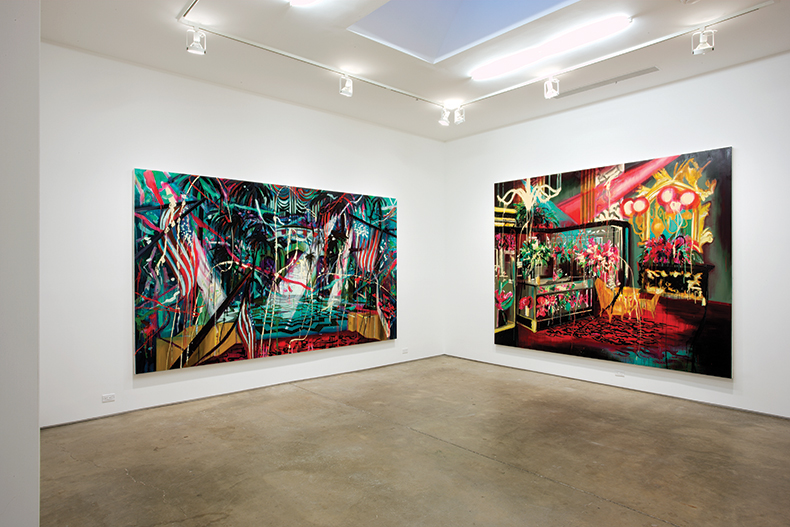 Do you see your paintings as stages?
I do see my paintings as theatrical, but not always a stage. I like to make the spaces large enough so the viewer can enter and experience them. In a way, [the viewers] are more like characters in the painting [than I am].
In the last 10 years, since your inclusion in Deitch Projects' Kult 48 Klubhouse, how has your work changed?
I think the work has more depth to it now. I think much more about what is really behind the paintings… An artist always has to be questioning oneself in order to grow, so I try to do that.
In your last exhibition at Honor Fraser, Ballyhoo Hullabaloo Haboob, the paintings were monochromatic—is this a new direction for you?
I think that work was just asking to be monochromatic. The subject matter was very dark and the inclusion of bright colors didn't make sense to me, so, again, it happened organically. I've been working on paintings with more color now!
In various interviews, you've said that you respect artists who have no fear, and that it is important to be fearless as an artist. Why?
Well, it's sometimes scary to put yourself out there. I guess what I mean is it is OK to feel the fear but to not let it limit you.
Do you think you are a fearless artist?
I try to be, but it's only human to have fears. What matters is how well you push through it.
—