"Where the underworld and the elite meet" is the slogan for the Shamrock Social Club, a tattoo parlor that mixes street-shop values with the glamour associated with its Hollywood location. The slogan also applies to its proprietor, Mark Mahoney, who is a master of fine-line black-and-gray tattoos and the person  celebrities such as David Beckham and Lady Gaga go to for new ink.
Mahoney's road to success began in Boston. As a teenager, he gravitated toward the city's underground punk scene, hanging with a greaser gang and beginning to cultivate his signature look. Tattooing was illegal in his home state, so the gang had to go to Rhode Island to get tattooed. "As soon as I walked into Buddy Mott's tattoo shop in Rhode Island, I knew that was what I needed to do," Mahoney told Inked magazine in an interview. "It was like an epiphany. I could always draw, and I knew I was going to end up doing something with art, but not until I walked in there did I know for sure. It took me awhile for somebody to give me a machine, but the seed was planted right then and there. It never wavered. I never wanted to be a rock star or anything after that. I wanted to be a tattooer."
One of the older guys from his neighborhood, Mark Herlehy, had joined the Navy and brought back some tattoo equipment from his travels. He let Mahoney do his first tattoo on him, a back piece. "It was more like half a back piece," Mahoney laughs.
Mahoney started tattooing professionally in 1977, but because the art was still illegal, tattooing was relegated to the underground. He tattooed in a motorcycle clubhouse in Boston, then went New York's Lower East Side, and finally settled in California in 1980. "It was really the first time I saw the fine-line, black-and-gray tattoo stuff," Mahoney told Inked. "I think I had seen one fine-line tattoo that Johnny Thunders had. It was just some initials that I think Bob Roberts did on him. I had never seen any of that East L.A. black-and-gray shading until I got here. I flipped my wig when I saw that."
For tattooers at this time, the West Coast was the prime location for a revolution in the trade. From Southern to Northern California, inventive styles were being refined and new standards were being set. Don Ed Hardy and Lyle Tuttle lead a charge, but they weren't alone. As Hardy was redefining Western conceptions of Japanese tattooing, Leo Zulueta was pioneering his own vision of neo-tribal, and in East L.A., Jack Rudy and Charlie Cartwright were turning a prison-born single needle style into a legitimate niche. Of course, the legendary Pike in Long Beach was still a bastion of classi American styles, and tattoos produced in shops owned by Bert Grimm and Bob Roberts were inspirations for Mahoney.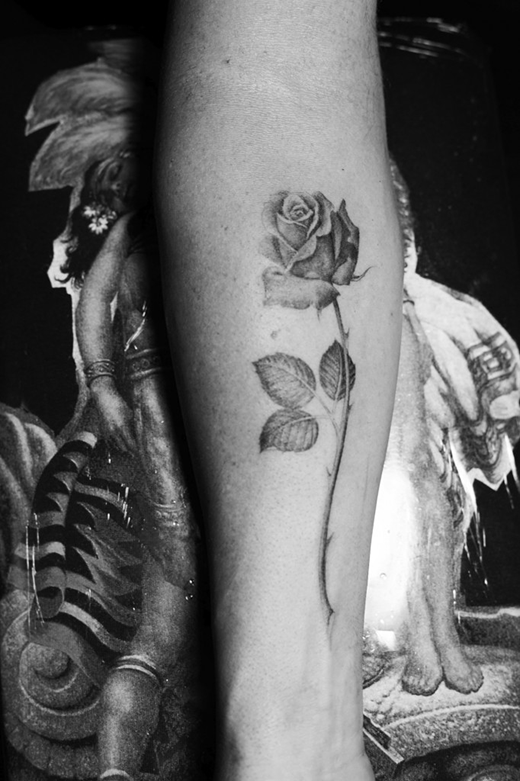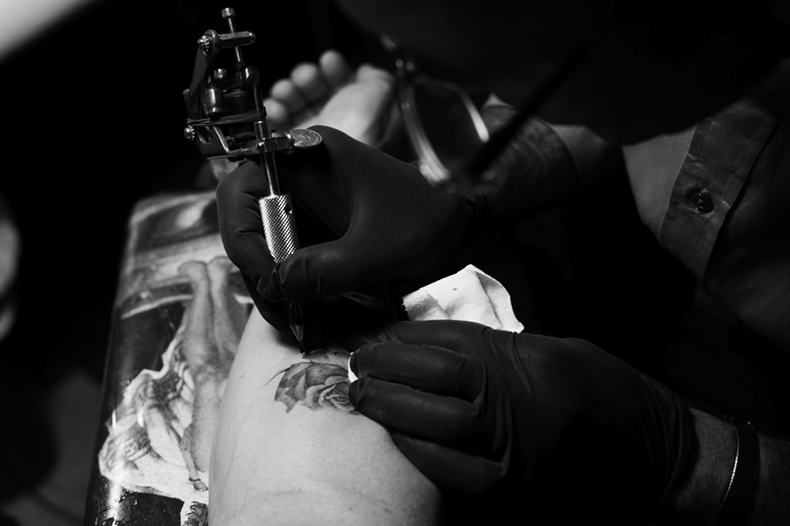 He tattooed at various shops in the Southland, including Tattooland in East L.A., and eventually landed in Hollywood, where he opened Shamrock on the Sunset Strip in 2001. "I worked hard at it," Mahoney says in his Just Like You video for Citizens of Humanity. "Find out what you want to do and work hard at it. I've been working six or seven nights a week for 35 years because I love it. There's nothing else I'd rather be doing."
Mahoney speaks slowly, deliberately, and with a slight air of mystery. He maintains a tough exterior, but Mahoney is friendly, charming and completely genuine. When Johnny Depp met him for the first time, years ago, Depp said in a video, "It was clear to me that he was, without question, the real deal."
Mahoney's personal style mixes rockabilly pomp with classic Hollywood, and is influenced by Dean Martin, Willy DeVille and Robert Evans. And his style has captured the attention of the fashion elite—from designing clothes for Betsey Johnson in the 1980s to a 2011 campaign for Yves Saint Laurent.
Through hard work and dedication, Mahoney has become an icon, a fixture on Sunset Strip, and has stories of visits from actors, rock stars and rappers—just days before his death, the Notorious B.I.G. visited Mahoney for a tattoo of a Bible psalm.
Despite all his success, Mahoney still revels in being at the shop. "One of the things about the process that I love, is that while I'm doing it, I can get into the spot where I'm not thinking, I'm not feeling, it's kind of like a spiritual state," he says. "People mediate for years, trying to get themselves to that zone, that by the grace of God I'm lucky enough to get into just about every night."
Being around other artists at the shop, such as Freddy Negrete and Rick Walters, also encourages Mark to push himself as an artist. "I really feel like I'm still learning, and it's constant and ongoing, and I don't feel like I'm half as good as I want to be," he says. "I've succeeded in some things, but I feel like I'm just getting started in all this."
—