IT'S NO SURPRISE THAT HIS BY-APPOINTMENT ONLY SHOWROOM IN NEW YORK'S SOHO DISTRICT, WHICH OPENED IN 2003, HAS BECOME A HUB FOR PHOTOGRAPHERS, STYLISTS AND COLLECTORS, KEEN TO GET A GLIMPSE OF THE CONSTANTLY EVOLVING WORLD OF TREASURES THAT MELET GATHERS FROM THE FOUR CORNERS OF THE GLOBE AND PUTS ON DISPLAY. EVERY CORNER OF THE 2,800-SQUARE-FOOT SPACE PROVIDES A BACKDROP TO A COLLECTION OF RARE VINTAGE GARMENTS AND EPHEMERA WHICH HE GATHERS AND UPDATES EVERY TWELVE WEEKS. IT'S NO WONDER THE NEW YORK TIMES CALLED MELET MERCANTILE, "THE SHOWROOM OF SHOWROOMS," AND PHOTOGRAPHER BRUCE WEBER SAID, "STEPPING INTO MELET MERCANTILE IS LIKE STEPPING INTO THE PERFECT APARTMENT."
How long have you been a collector?
Since I was 14.
What got you into it?
I was surrounded by art and antiques and books that my family collected. I had a Grandma who was an interior decorator, and she was a pioneer, with impeccable taste. I always felt that collecting and having things was something that I was prone to. And I had turned that passion at a young age into a viable business by the time I was twenty.
How have your tastes changed over the years?
I've just gotten smarter and wiser.
Are you originally a New Yorker?
I am originally from Flint, Michigan.
How long have you been in New York?
I've been in New York for over 25 years. My family had an apartment at Madison and 37th street by the garment industry. When I was eight, my father brought me to the City for a trip. I went to The Palm for dinner and Serendipity 3 for dessert, and by the time we got back to the apartment I had told my parents I was moving to New York City.
What is it about New York? What do you love about it?
I am drawn by the creative talents and all the various industries that are based in New York, and the amount of international traffic that comes through here. So, for my business it seemed like the natural place to be. It's where I always aspired to be. And actually, in the building we're in, in Soho, is right above where back in the 80s some of the greatest antique dealers were.
What are the things you personally love to collect?
My wife and daughter and I, at this point we collect art and photography that's obscure and found, based on our travels, mixed with aspirational art and photography that we covet and invest in. Because of the nature of the business we are in we get to meet a lot artists and photographers as clients, and develop our relationships with them. Through time we have cultivated those relationships and have been able to acquire their work by trade or other ways. So our personal collection is a combination of those things, and we cherish them all.
Is there anything in particular you're in love with right now?
Right now, we're collecting a lot of paintings. People always want to know what I keep and I sell…there are so many things that I love, that are painful to sell, but I always feel that to be great at what you're doing you have to be willing to give it up. For me now, just focusing on paintings and photography is important. I love books and I have way too many of them. At this point I'm just focusing on important art.
Is it a good time to be an art lover in New York?
I think it's always a good time to be an art lover! I'm glad there are a lot of people who are young and interested. The contemporary market is a funny market. Just buy what you love and you'll be ok.
What's your lifestyle like? How often are you out of town?
I work on a four season cycle and a yearly calendar. There are certain venues and places I go to every year, and then there are places I like to explore within a given year, each year. The lifestyle that I have and my family has isn't "normal". I liken it more to a musician that's constantly on tour. We travel every month, and maybe that's not for everybody, but I thrive on it.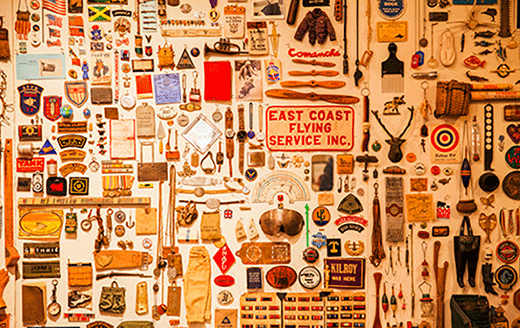 What are the places in New York you love the most?
My free time is at the beach, where I get clarity. When I'm in the City if there are friends and colleagues with openings, I try to support that. This City is always full of that. I was in Paris last week, and it was full of happenings as well. So, wherever I am I always try to surround myself with people I enjoy working with.
What are some of your favorite items in the store right now?
People ask me that a lot, and there are so many cool things. My whole office is a collection of small things I've collected throughout my career, and I have assembled them in a very organized way. All of those things I find precious. It's more a body of work, as the whole showroom is. To pinpoint one thing would be too difficult.
Any historical heroes?
Depends on different fields. Teddy Roosevelt, who is an ardent supporter of wildlife and nature and exploration, to Jacques Cousteau, to Picasso…those are some.
What's the best part of what you do?
Meeting all the talented people that I get to provide things for. I deal in so many different sub cultures and worlds from art, to antiques, to textiles, to books…there are so many different great dealers who have been mentors through the years, and truly, knowing them has been the most memorable part of living this life.
—